Now that summer is finally here it was time for yet another alcohol and canapés - the stress of it all dear readers - fuelled celebration. This time it was the famous Sport Illustrated girly swimwear mag 10th anniversary party at The Collection, Brompton Road, London. The main form of entertainment we were all waiting for was the appearance of the juicy model RACHEL HUNTER. When Rachel - who made a career from being married to ROD STEWART and also some modeling - arrived all hell broke loose as the mad paparazzi -as opposed to invited photographers like erm yours truly - went wild and surrounded the poor woman's car so aggressively that she could not even get out of it for the first minute until more security arrived. But get out she did and entertained we certainly were, specially by her lovely curves. I can now see why MICHELLE MONET who owns lingerie label 'ULTIMO' terminated PENNY LANCASTER'S contract in favour of Rod's ex RACHEL HUNTER. What adds spice to this innocuous bit of goss and brilliant PR stunt is that PENNY LANCASTER is Rod's current girlfriend! Rod was fuming that Penny had been dumped by Ultimo in favour of his ex and went public with all the papers reporting his anger. Both are beautiful women but I have to agree with Michelle Monet. I do prefer RACHEL HUNTER. Apart from a slight double chin, Rachel is all curves and very sexy. Other babes I bumped into at the free bar were my pal model and winner of FEAR FACTOR - tv stunt show - CAT MCQUEEN, ANNEKA SVENSKA, and the er CHEEKY GIRLS. JAMES HEWITT seemed to be doing well chatting some of the girls up, though left empty handed.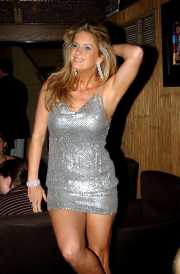 Winner RACHEL HUNTER Copyright: Joe Alvarez



Biggest do of this month was the Sony Radio Awards once again at the Grosvenor House Hotel, -infamous for the 'roasting sessions' that allegedly took place there- in London. Guests included: DANNI MINOGUE, ELTON JOHN, ROD STEWART with current squeeze PENNY LANCASTER, AMANDA DONAHUE, CLIVE ANDERSON, my chum ANDY KERSHAW, CAROL BARNES, roundman dj JONO COLEMAN with sidekick HARRIET SCOTT, 'royal' JAMES HEWITT, TONY BLACKBURN, SIMON MAYO, dj GOLDIE, MARTIN KEMP, KATIE DERHAM, AMY WINEHOUSE - with an atrocious faux pas of a dress my gran would've been proud of- AUDLEY HARRISON -who will one day gain credibility when he fights a trained boxer, should he win the bout..- Warbler LULU turned up also and she looked fantastic I must say, considering she's 92. I think. It was handy having full access to the VIP room -partly aided by my covering of the event for OK! Magazine - because I didn't have to get up to summon further bottles of champers. Just a regal wave ensured a new bottle each time. Naturally I stayed there most of the night wiring my pictures. ANDY KERSHAW won a deserved gold award for world music -though not for his all blue jeans and blue denim shirt attire as it was a black tie event, but he is a class act- as did JONO COLEMAN -for over eating?- and HARRIET SCOTT for their morning show. The main award presentation at the end of the night for 'Life Achievement' -if I recall correctly- went to the great JOHNNIE WALKER who's award was given to him by ELTON JOHN. ELTON should've had an award for best toupee/hair experiment on the night and believe me there were a few contestants. His hair looked very convincing from 50 yards away which is a lot better than the 100 yarder it used to be. Go ELTON!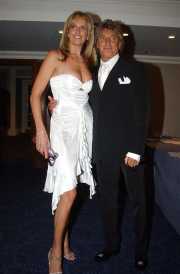 Rod Stewart & Penny Lancaster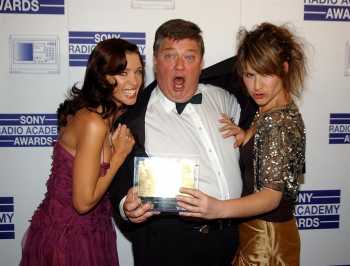 Danni/Jono/Harriet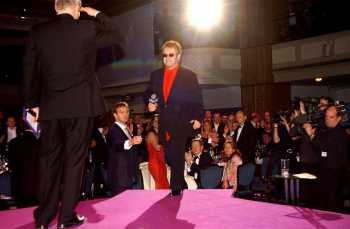 Elton John



All Copyright: Joe Alvarez

Other events I covered included PHOTO-LONDON exhibition at the Royal Academy of Arts, with ELTON JOHN once again attending also DAVID BAILEY, JOHN HURT and MARY McCARTNEY DONALD amongst the attendees and the Football Factory film premiere and after-party which was a huge lot of fun.......but sorry no time left but to say over and out and

see ya next month.


JOE ALVAREZ

joealvarez@verycool.co.uk


(Copyright: Joe Alvarez 2004)

ALL PICS COPYRIGHT JOE ALVAREZ