I have been inundated with enquiries about my fave new designer ROUBI L' ROUBI (020 7602 9867) the talent behind STARZEWSKI who has now branched out on his own at very affordable prices. ROUBI's designs are indeed stunning and I was thrilled to see the whole collection when I compered a sell out fashion show for ROUBI at the exclusive QUEENS' CLUB last month. One of ROUBI's great talents is that he can design for ladies and gentlemen of all sizes and ages so it was only natural that I should go to his elegant West Kensington atelier to choose a suitable outfit for JADE when she attended her first ball recently at the tender age of 12. We chose a dreamy heliotrope 3 piece in satin and chiffon for the junior MS. FARMILOE-NEVILLE and she looked and felt like a princess. The occasion was THE SWEET PEA BALL at the one and only DORCHESTER, organised by the redoubtable LIDDY ASHWORTH in aid of THE OSTEOPATHIC CENTRE FOR CHILDREN, a truly worthwhile cause and starring the combined talents of RORY BREMNER, THE 3 WAITERS and THE ANDY LEEK BAND. JADE was thrilled to be invited to accompany LIDDY's lovely daughter PHOEBE who read a beautiful poem and the whole evening was magical. The event was covered by OK and was bristling with sexy celebs including ANTHEA and WENDY TURNER, LOUISE JAMIESON and HALE AND PACE.

We have decided to call JADE's ROUBI outfit "THE SWEET PEA" and here's JADE sporting it accompanied by mummy wearing ROUBI's "BAFTA" dress, so named after my great success with it in THE DAILY MAIL Best Dressed List and on THE E CHANNEL at the BAFTA Film Awards in February.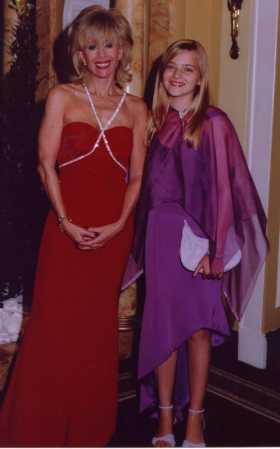 SALLY AND JADE wearing ROUBI L'ROUBI at THE SWEET PEA BALL



Btw if you inspect this pic closely you may notice that my eyes and lips have much more definition than usual thanks to the wonders of my recent semi-permanent make up sessions with the brill WENDY PETERS of CREATIVE CONTOURS : 01189 34 24 25 or visit the fascinating site at: www.creativecontours.com

I have been really pleased with my CREATIVE CONTOURS semi-permanent make up; my eyes and lips were lightly tattooed with special eye and lip liner respectively and now look great without any normal make up at all. The treatment has saved my life timewise and I look much better when I do the full monty with the make up too. You can also get your eyebrows done if you don't have great big beatlebrows like me. This is truly the best invention I have ever come across on the make up front and I urge you all to get it done immediately: it's absolutely life changing. After all, who wants to be caught out by the milkman, or indeed your husband, with a naked face! WENDY changed all that for me in just 2 short sessions and I have been assured that my "creative contours" will last for months, if not years.

WENDY PETERS is also in London, at the trendy TYRONE AND CO salon in Porchester Place, W.2. (020 7723 48 43) outside the dreaded Congestion Zone. While you're there you can get your barnet fiixed by the great TYRONE himself, have the best colour in town with SHARAN, a blow dry with DAWN or your nails and/or brazilian attended to by MAGGIE. TYRONE is the new flavour of the month on the celeb circuit and all the blondes from a certain seriously popular TV show patronise the salon. TYRONE recently did my hair and make up for a SUNDAY mag shoot and now I can't live without him! He's pretty cute too, as you can see: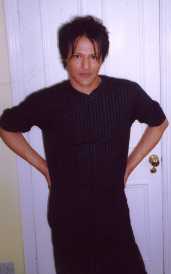 TYRONE



Talking of make up, ROUBI L' ROUBI has recently launched his own line of stunning lipsticks and nail polishes to match his spring/summer collection. What a totally cool idea to match your lips and nails exactly to your frock! Being ROUBI he has gone to the best in make up and skin care manufactures, CETUEM and the products glide on like a dream. The sizes are comparable to CHANEL and much cheaper; check them out when you next treat yourself to a nifty little ROUBI number or order them over the phone (020 7602 9867.)

Once you've got the frock, the lippy and the nails from ROUBI and had your hair and make up done by TYRONE, you'll be ready for some really great jewellery. The best jewellers in London, to my mind, are MOZAFARIAN whose range includes everything from delicate and feminine necklaces and bracelets to massive sparklers which will knock your socks off!

MOZAFARIAN are just opposite HARRODS in Brompton Road, Knightsbridge (020 7589 0777) and it's a family business so everyone is very helpful and friendly. Or you can visit their sparkling site at: www.mozafarian.com

MOZAFARIAN bejewel some of the most gorgeous celebs on the planet, including 9ALLEGEDLY!) IVANA TRUMP and SHIRLEY BASSEY to mention just 2 and here's lovely TAMARA BECKWITH wearing a stunning pair of chandelier earrings which have obviously captivated her companion GEORGE BEST.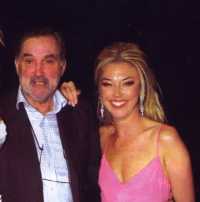 GEORGE BEST with TAMARA BECKWITH wearing MOZAFARIAN jewellery.



My skin care product of the month for June is LANCOME's amazing new RESOLUTION Eyes D-Contraxol, "an intensive treatment which reduces dermo-contractions and strengthens the resistance of skin on the eye contours to correct even the deepest wrinkles." This is the sister treatment of LANCOME's RESOLUTION Intensive Anti-Wrinkle Treatment which has enjoyed fantastic sales and rightly so. Ladies of all ages worry about "crows' feet" and the delicate eye area is particularly tricky to improve. But our guinea pig, LYNSEY, who is so mature that she doesn't want to mention her age, has reported great results with RESOLUTION Eyes. She reckons it's taken years off her appearance after just one month's use and, frankly my dears, so do we.

One beautiful lady who doesn't need any skin care products is the porcelain skinned singer ROSE-MARIE who is now back on our shores after a highly successful stint in the U.S .of A. Flame-haired ROSE-MARIE still jets over to Las Vegas for her regular sell out cabaret appearances but let's hope she'll now be spending more time here in London. She recently went Thespian with a starring role in DOCTORS, in which she was positively brill and rumour has it that CORRIE are planning to create a special role for her (you read it here first, soap fans!)

Check out the official ROSE-MARIE website at: www.rose-mariefanclub.com

As well as being an extraordinary singer, ROSE-MARIE is an hilarious funny lady and, as you can see, her face and figure are up there with the greats:



ROSE-MARIE



Btw if you like musicals the best one in town is currently THOROUGHLY MODERN MILLIE at the SHAFTESBURY THEATRE; it's guaranteed to lift your spirits and send you out dancing. JADE and I have now seen it 3 times and at our last visit she was thrilled to meet the wonderful ANITA DOBSON who steals the show with her portrayal of phoney chinese lady MRS MEERS. The gorgeous and vivacious ANITA brings the house down as "MEERSY" and the rest of the cast are also excellent, including PRINCE CHARLES' favourite singer SHEILA FERGUSON as MUZZY. AMANDA HOLDEN has been off whenever we've seen the show (perhaps she is avoiding us!) but her understudy DONNA STEELE is superb as the eponymous heroine. Well worth a visit or 2 and the ticket prices are reasonable too. Now here's lovely ANITA as herself: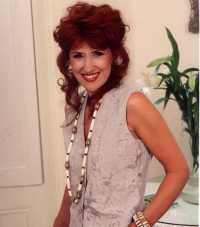 ANITA DOBSON



If you fancy something heavier you could try TREVOR NUNN's extraordinary modern-dress version of HAMLET at THE OLD VIC . This unusual new production is superb but be warned, it's 3 and a half hours long so don't forget your thermos flask and sandwiches! BEN WHISHAW (23 and looking 17!) is the most convincing deranged person I have seen in a long time and plays HAMLET THE DANE in a manic and totally un-regal way to the delight of the audience. All the cast are excellent and I particularly liked TOM MANNION as CLAUDIUS and TREVOR NUNN's beautiful wife IMOGEN STUBBS as a young and sexy GERTRUDE.

So don't "Get Thee To A Nunnery" but to the theatre and grab some culture, FFB fans. Our West End theatre is the best in the world and, as you read above, you will have a chance to see some of our most popular actors and actresses treading the boards.


Thank you for reading my page.

Do check out my own personal site at: www.sallyfarmiloe.co.uk

You can e-mail me at: sally@hotgossip.co.uk