Summer is officially here and we are all thinking about our looks. Thank you for all your emails about DR ELIZABETH DANCEY's amazing new Homeopathic Mesotherapy, the only treatment which really gets rid of cellulite.
(DR ELIZABETH DANCEY:: 020 7821 8257.
Nationwide Stockists of Homeopathic Mesotherapy: MEDICAL AESTHETIC GROUP: 02380 676733.)
Homeopathic Meso does work! I have tried it myself and my daughter recently noticed that my bum was even smoother and higher than her 15 year old one! "From the mouths of babes" and all that. Of course the treatment works much better if you combine it with a healthy diet, not too much booze, lots of water and an ace personal training routine. My wonderful personal trainer - and now personal bodyguard - REED DOMINGO (07957 801 395), whom I reviewed for you last month, fitness fans, has everything to do with the shape of not just one's bum but one's whole bod. The thing about personal training is that your trainer will tailor make your routine to suit you and your personal needs on the fitness and body sculpting fronts. There is no way you will get the same effect in a gym or by jogging, swimming or even tennis, which is always frightfully popular around Wimbledon time. Personal training is hard work but sooooooooo worth it and REED is the best one I have found after trying them all!


Sun damage has a lot to do with the look of your skin so now that summer's here protect your body and limbs as well as your face.
For those of you who have very sensitive skin and/or play a lot of sport in the sun, PRO-MEDIC have brought out Medi-block Cell SPF 85, the highest SPF yet and a great total block which rubs in easily to give a completely transparent look whilst still doing the business on the protective front. Let's face it, not much is going to penetrate SPF 85!
If you don't need quite so much protection, try PRO-MEDIC's Medi-block Sun Protector Spray, SPF 25, which is absolutely the easiest of all the SP products to apply and smells great too.
Stockists: www.beautyisskindeep.com


BOOTS also stock all sorts of excellent SP products, including both the NO 7 and the SOLTAN ranges. I particularly like the NO 7 Anti-Ageing Sun Protection, SPF 25 and their Tan Enhancing Sun Protection, SPF 15, 'with a hint of colour', both of which are spray-on for easy application. Other good SOLTAN products we tried in this office were their Toning Sun Protection, SPF 15, which helps to keep the dreaded cellulite at bay (great idea) and their Face/Anti-Ageing Sun Defence Cream, which comes in a handy travel size.


There is no question that most types of skin look better bronzed, especially if you have any cellulite or other imperfections lurking. Again BOOTS have some good SOLTAN fake tanning products. Check out their Beautiful Bronze Dry Mist Spray which is ideal for bronzing hands and feet, without 'orangifying' your palms and Beautiful Bronze Tinted Self Tan, so that you can see exactly where you are applying your tan. Then there is my personal fave, Beautiful Bronze Face Cream which is simply the best for the face, hands and decollete and can be used all year round for a natural glow.


Don't forget to look after your hair in the summer. VIDAL SASSOON have brought out an excellent new hair dryer called Travel The World which is ideal for all hair types, with 2 heat and speed settings and a fold away handle which makes it very compact. The dryer comes with a handy storage pouch and adaptor and is quite lightweight. Travel the World's cool shot is great for setting your style whether up or down, long or short, especially for keeping wayward fringes in place. Fans of the Travel The World dryer include lovely TAMSIN OUTHWAITE and here she is sporting an up do and showing off more than just her hair!



TAMSIN OUTHWAITE. C.r.: Express Newspapers.




Hair grows faster in the heat. That's great for head hair but a bit boring for the rest, i.e. legs, underarms, brows, etc. If you're fed up with dealing with your bushy brows all summer (check out lovely SOPHIE ANDERTON'S in JOE ALVAREZ' S fab CELEBRITY column when you finish this one), you'll be thrilled to hear about Clari Tweeze, magnifying and illuminating tweezors which come with their own eyebrow shaping brush and comb, a red light for clarity and a carry pouch. These are 'la creme de la creme' of tweezors, under £10 and easy to use.
Stockists: JOHN MILLS LIMITED (like SIR JOHN, the film icon often featured on this page): 020 7691 3800 / www.imidirect.com


Gorgeous ELIZABETH HURLEY recommends plucking your eyebrows on planes as she reckons that's where you get the best light. Reminds me of what divine hairdresser TYRONE ( 020 7723 48 43) told me once while teasing my tresses: "the higher the hair, the closer to God"!

Now here's ELIZABETH with a sun kissed JADE JAGGER and canine pal on the flyer for a doggy show: woof woof! The stunning doggy above this pulchritudinous pair (good place to be!) is our very own PASHA posing with the famous PETER of PETER'S POSH PETS (020 7602 1357)'s charming boyfriend ALAN in the 'Dog who looks most like his Owner' class at a dog show last year. We wuz robbed in that class then but PASH was runner up in the Pedigree Pooch. Watch this space for results of this year's show. In the meantime PASH is not sitting on his haunches and is up for barking roles in a couple of new fillums, one written by the super talented CHRISTOPHER HAMPTON.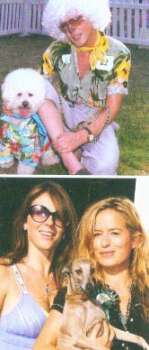 ELIZABETH H , JADE J, PASHA and ALAN. C.r.: Gabor Scott.




On a completely different tack, if you have any unsightly moles don't despair: they are very easy to get rid of these days. However if the mole needs to be cut out, it is best to go to a cosmetic surgeon who will do a really neat job without leaving a bad scar. Our reader JANE complained about a whopping great mole on her ear and we sent her to highly respected Harley Street cosmetic surgeon LUCIAN ION ( 020 7486 77 57) who excised it completely painlessly. JANE said: "I didn't feel a thing and, although it's only been 2 weeks, the stitches have dissolved and I can hardly see the scar." LUCIAN is himself pretty easy on the eye and here he is, laydeez!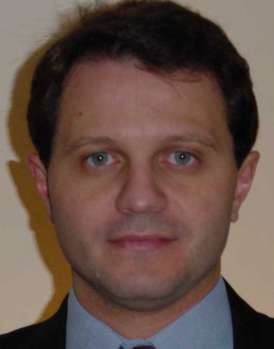 LUCIAN ION: private collection.




To help heal all scars, use Dermatrix if you can afford it or Bio-oil if you are watching your finances. Both available from good chemists.
If you have moles and are worried that they might be malignant, you can get them tested with MoleMate, a new and painless melanoma screening device available at the practice of DR ELIZABETH DANCEY (020 7821 8257). Brill idea.


And now for something completely different............... that great Brit inventor and personal friend of mine SIR CLIVE SINCLAIR has done it again. His latest invention, the A-Bike is the lightest and easiest to ride foldable bike you will ever come across. Not only will it give you a spot of exercise and beat the dreaded Congestion Charge, it is also really easy to pack up and pop into a taxi, bus, train or whatever if you are going on a long journey or if it starts raining. Plus the seat is comfortable for most sizes of posterior! Looks like the A-Bike could be the answer to all our transport problems.
Contact: www.a-bike.co.uk
0870 766 8498.


There are a couple of good celeb books out this month. NANCY DELL'OLIO'S My Beautiful Game (Bantam Press / £17.99) is a jolly good read with plenty of romance for the girls and footy for the boys. 'The first lady of football' writes very well and there are some snazzy colour pix including one of NANCY in that red KRUZSYNSKA outfit (phone LILIANA or DANUTA at 020 7589 0745 if YOU fancy one!) Then of course there's her version of events of When Sven Met Ulrika.................
Now here's NANCY running for a bus, sorry, yacht!



NANCY DELL'OLIO. C.r: Gabor Scott.




Lovely IMOGEN LLOYD-WEBBER, daughter of the amazing LORD (ANDREW) L-W, has written a very witty and amusing tongue-in-cheek paperback, THE SINGLE GIRL'S GUIDE (Summersdale / £7.99). So if you fancy a certain 'distraction' for 'non-platonic affairs' who is not 'all text no trousers' (are you reading this, Enzo?) this book is for you. I love the way IMOGEN writes and the book gives all singletons out there lots of practical advice about not just dating but all sorts of work and social situations including, of course, 'accidental sex'. Brilliant!


COMPETITION!!!
The first 6 readers to email me (headed BOOK OFFER, please) will receive a free copy not just of IMOGEN'S THE SINGLE GIRL'S GUIDE but also of the equally lovely CERIL CAMPBELL'S DISCOVER THE NEW YOU: CELEBRITY SECRETS TO TRANSFORM YOUR LIFE, an excellent and comprehensive beauty book which I reviewed recently. Both great books have kindly been provided by the publisher, SUMMERSDALE. You have to be in it to win it so get emailing me at:
sally@hotgossip.co.uk


I am delighted to report that LEON NORELL'S excellent self-help book, CHANGE YOUR MIND, CHANGE YOUR LIFE which I reviewed last month is now available on:
www.amazon.co.uk
for the fab price of just £5.00.
An inspirational and motivational read: check it out.


ROYAL ASCOT was a wonderfully fashionable occasion this year with la creme de la creme of gorg frox and titfers on the manicured lawns of the recenty re-designed racecourse. There were some really wild and whacky publicity-seeking hat creations around the course but also some truly elegant ones in the Royal Enclosure, especially by top designers DEIDA ACERO, PHILIP TREACY and LOUIS MARIETTE. Here's lovely QUIZ CALL presenter LIZ FULLER posing with our very own HGUK columnist and hypnotherapist extraordinaire, VALERIE AUSTIN - plus a lively gal from THE SUN who has obviously given up smoking just in time for the ban this month!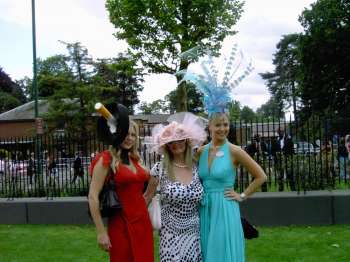 LIZ FULLER and VALERIE AUSTIN with THE SUN'S Smoking Lady. C.r.: Charlotte Ellis.



LIZ's stunning frock, btw, is by top fashion designer CHARLES SVINGHOLM (07909 518 338 / www.charlessvingholm.com)
whose gorg outfits I reviewed last month. Both LIZ's and VAL'S delightful titfers are by the lovely DEIDA ACERO (07787 930 022) who also dresses the crowns of such luminaries as DAME SHIRLEY BASSEY, IVANA TRUMP. LADETTE TO LADY 's LIZ BREWER and my humble self. The fabbo snappo is by our divine PR lady CHARLOTTE ELLIS.


The smoking ban is causing a lot of upset nationwide. Some peeps feel they just can't give up. There's no such word as 'can't', health and fitness fans! Just book up with our lovely hypotherapist and nutritionist VALERIE at:
valerieaustinhyp@aol.com
and she will hypnotise you out of your yearning for the dreaded fags for ever in record time. Well. she succeeded with moi, so why not vous?
Do take a look at VAL's fascinating MODERN NUTRITION AND HEALTHY LIVING column, btw, when you leave this one.


Still on the fashion front, RAFAEL NADAL, winner of the French Open and battling away at Wimbledon even as I write, has changed the face of tennis togs recently. Nippy NADAL favours singlets and pedal pushers with flashes of azure, a million miles away from the boring old all-white saggy baggy shorts of yesteryear. Game, set, match! Now here is sexy Spaniard NADAL showing off his form, tennis and otherwise, snapped by the most beautiful female paparazza in the biz, ROWENA CHOWDREY.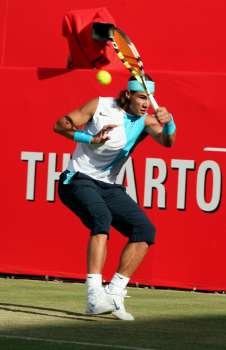 RAFAEL NADAL. C.r.: Rowena Chowdrey.




Btw our very own TIMMO (HENMAN) is looking more and more handsome. He is already a supermodel so why not a fillum star next? You read it here first, film fans!

Thank you for reading my page. Please write to me at:
sally@hotgossip.co.uk
and check out my personal website at:
www.sallyfarmiloe.com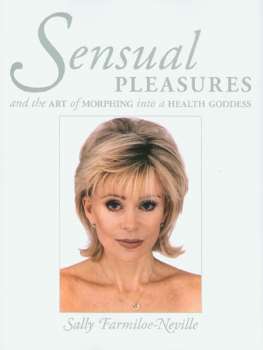 SENSUAL PLEASURES AND THE ART OF MORPHING INTO A HEALTH GODDESS (£16.99) is available from the following outlets:

Delancey Press - orders@centralbooks.com or 0845 4589911
ISBN: 0780953911998

LOO TIME VIDEO available from:

farminghamprods@aol.com and:

http://www.121music.com/pages/video_01/home.html