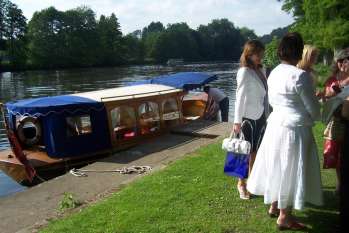 Ladies ready for a sail on the Thames from Lord Astor's Cliveden.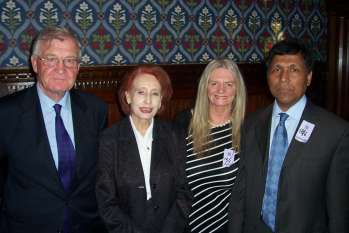 The High Commissioner, Mr Ashraf Uddin, Countess Maryse-Antoinette and Valerie Austin at the House of Commons.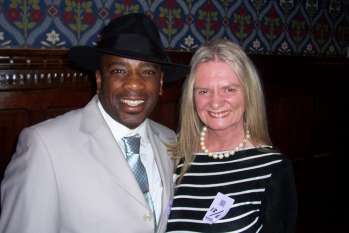 Winston McKenzie,candidate for Mayor of London.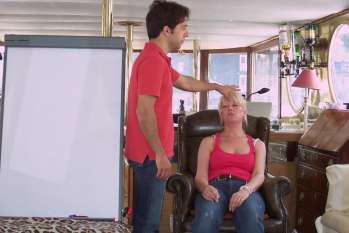 Stop Smoking training on my yacht.




It has been a busy month with many social events which I have unashamedly thoroughly enjoyed but I have singled out a couple of my favourites. The ladies' lunch for the Child Bereavement Trust, at spectacular Cliveden near Marlow, was very elegant and the sheer luxury of the surroundings was easily worth the trip from London.

As I walked past the swimming pool, where Mr Profumo and Christine Keeler frolicked in a scandal that brought a government to its knees, I thought of the footballer's wedding (Steven Gerrard marrying Alex Curray) which was planned for the following weekend. It was intriguing to speculate how they would decorate the pool as the staff busied round. The pool was obviously going to be a part of the celebrations for the three day event which was claimed by one newspaper to be costing £75,000.

However we ladies were having a very sophisticated meal in the sumptuous French dining room. It has a charming history of how Lord William Waldorf Astor, visiting Madame de Pompadour's Chateau in France,was so impressed that he bought the panelling and completely reconstructed her room in his private home - now the luxurious Cliveden Hotel. He found his dining room to be of similar proportions to Madame de Pompadour's and now it is a delightful replica of her 18th century room. After the lunch some of us were invited onto a private gentleman's launch which had beautiful wood and delicate curtains. I saw one at the Henley Regatta and had wondered what it would be like to sail in. We had our own waiter and the excellent champagne flowed - I have to say it was the best part of the day. It is well worth a look at Cliveden's website to see the absolute luxury of the place.

Another delightful event was a talk at the House of Commons with a High Commissioner, Mr Ashraf Uddin. I am always impressed by the magnificent architecture of the Parliament building, whether going for cocktails, lunching on the Terrace or sailing past on our yacht. Our function was in the Jubilee Room / Westminster Hall room which has been the talk of Parliament, the new wallpaper causing such uproar. You can just about see it in the picture above. One of the gentleman at the talk was Winston Mckenzie who is running for Mayor of London. He is from a boxing family and told me he had been short listed and was ready for a good fight.


Health Lottery

I have been shouting as loud as I can for the past few years about just how dangerous our food has become. Especially regarding the huge amount of salt and sugar in our foods which is quite noxious. I was told that our body needs salt which is true - but not a truck load. The average person is now consuming such incredible amounts that they invite heart disease, strokes and early heart attacks, even women. Sandwiches and general supermarket food, which are supposedly good and healthy, are definitely some of the culprits. The variations in the amount of fat and salt is incredible, researchers warn. Some supermarket meals like pizza, lasagne and curries can contain as much as four times more salt than their competitor supermarkets. Ready made meals can have five times as much fat and six times as much saturated fat as other ones.
My warnings have mainly fallen on deaf ears but it is hard to escape the evidence now presented in the National Press. With articles on the 'cocktail of chemicals' in our fruit even above the legal limit it's little wonder I haven't eaten salad or fruit in a restaurant for years. The organic food campaigner, the Soil Association, finds it 'alarming'. Jo Butten, a CASH nutritionist said, "some salty food and snacks may contain concentrations of salt which are around that of the Atlantic's seawater".
Just a ban on salty snacks can lower a child's blood pressure considerably, researchers claim. The frightening findings were published in the November issue of The Medical Journal..

Just recently it was reported that doctors are saying we should treat children's obesity as neglect. Maybe in some families that would be the case but if the food is causing adults as well as children's bodies to go into 'chaos' then I think they should punish the producers rather than the parents. It is so very hard to buy food that is not contaminated with chemicals which are disfiguring our bodies. The amount of overweight and obese people passing my boat has trebled since last year.

I recently went out with my husband to look at the new 'Whole Foods' emporium in Kensington. I knew only too well from my experience in America that the restaurant part would be unlikely to have anything organic to eat. I was glad to find a very small area for vegan food which was 'all' organic. Remember, if it doesn't say organic it means the ingredients are conventional and are likely to contain chemicals.

Because of this we chose to try an organic restaurant in nearby South Kensington, which was very modern with minimalist decor. However only part of the menu was actually organic. We were told by some of the staff that everything else was organic even though it didn't say so. Enquiring further it was explained that they did as much organic as they could. All the meats, fish and chicken were organic. The bread was delicious, I had a pleasant lamb stew which was about a five out of ten but the dessert (organic) was a ten out of ten. The problem was that I am allergic to many chemicals so I had a rough night because only part of the meal was organic. When we left we both wanted to drink gallons of water and my husband felt sluggish. This is the trouble: because we eat non contaminated food (fully organic) most of the time we can taste the huge amounts of salt in other food and react to the poisons.

Looks like it's back to 'Organic Pizza', also in South Kensington, who are fully organic.


Bees could be the death of us!

"If the bee disappeared off the surface of the globe, then man would only have four years to live": Albert Einstein.
In a harrowing article, Michel Dogna, a health journalist from France, is warning of the biggest ecological catastrophes - and no one seems to be listening. As the bees are being decimated by a toxic seed-coating agent, our entire food supply is threatened. We need plants and plants need bees for pollination, especially the plants we grow for food. Obviously our busy friends are not part of the equation of the global chemical and food cartels.

Tips:
A study by biomedical scientists at the University of Leicester has revealed that rice bran could reduce the risk of intestinal cancer. A high daily dose of stabilized rice bran caused an average 51% reduction in the number of precancerous adenomas in the intestinal tract.
Professor Andreas Gescher, the principal investigator, said, "whilst there was no effect of rice bran on the development of prostate or breast cancer, rice bran significantly retarded the development of intestinal adenomas."


Organic Website Forging Links With Industry

A new website for buying and selling organic food has signed up hundreds of
businesses and been backed by industry leaders since its launch earlier this
year.
OrganicAssistant.com is the brainchild of former WHS Smiths sales executive,
Graham Crisford. The site allows searches for organic products by category or geographic area, as well as serving to bring together producers, retailers and consumers.
Richard Jacobs, Chief Executive of leading UK organic certification body,
Organic Farmers & Growers, has also given his support to the new site.
He said: "We welcome with open arms any service that helps to connect
consumers with organic products and producers.
www.OrganicAssistant.com


The Soap Nut

I visited the 'Allergy' fair which gave me the opportunity to buy environmental products that are healthy. One of my favourite products is Soapods, an entirely renewable resource, comprising the shell of the soap nut which grows on trees in South Asia. The shell, which is separated from the nut, is harvested and contains 'saponin', a natural detergent similar to soap. It is also up to 50% cheaper than other washing products and doesn't need fabric softeners. I have tried it and it is great, with no chemicals.


STOP SMOKING Training

I am just launching my new training course to teach people how to have a career in stopping people smoking. A four day course will teach you how you can earn a lucrative living, either part-time or full-time and save lives in the process. With the new stop smoking ban and a concentrated training in the very best deep relaxation techniques, you could reap the rewards of a thoroughly enjoyable profession working as a stop smoking specialist. Check out my website on www.stopUKsmoking.com
-or if you just simply want to stop smoking, contact me for the Hot Gossip special price.




Eds Note: VALERIE AUSTIN is an author of six successful self-help books including SELF HYPNOSIS (Thorsons), journalist and trainer with an international reputation in the field of hypnosis. Her best-selling books and training help people achieve their full potential. She founded the Austin Corporate Stress Management Company focusing on reducing stress and anxiety amongst executives and CEO's. She is also founder of UKRAH (1992) The UK Register of Advanced Hypnotherapy. Valerie has also worked as a consultant in hypnosis at the Priory Hospital, the UK's equivalent to The Betty Ford Clinic, which specialises in food addiction and alcohol abuse. Her work in the film industry (Hollywood) interviewing movers and shakers, producing TV news segments and publishing celebrity magazines in London gave her invaluable experience for her current Harley Street practice.