If you have never had a Brazilian Wax, laydeez, you simply haven't lived! The experience does not have to be like CARRIE's in SEX AND THE CITY when she was waving her red MANOLOS in the air and hollering in agony! It all depends on the therapist: you need someone fast, accurate and amusing enough to take your mind off the discomfort and I am happy to report that I have found the best Brazilianer in the capital at a reasonable price (from £30). The lady's name is MAGDALENA ALEXANDER and she works out of the fab TYRONE AND COMPANY salon at 14 Porchester Place, W2 / 020 7723 4843. The TYRONE salon offers all the usual hair, facial and nail beauty treatments with a big celeb clientele, including several BBC blondes and TYRONE himself is the best "big hair" stylist in the biz.
MAGI is an excellent all round beauty therapist and nail technician but is particularly well known for her waxing technique, specialising in Brazilian, Hollywood and Bollywood waxes. I decided to try her out myself before going on a skiing hols which involved bikinis and a hot tub last month. (Remember: the more comprehensive the waxing, the smaller the bikini can be!) MAGI does a mean Brazilian from scratch in just 20 minutes with the minimum of discomfort and I was thrilled to be able to wear my teeny weeny PIERRE CARDIN bikinis in the jacuzzi, the focal point of our chalet apres ski activities. So what are you waiting for? You will feel and look your best underdressed, overdressed and undressed with a MAGI Brazilian.

Btw if you too are going on hols this month, I have finally found an affordable airport chauffeur service who are super reliable with smart courteous drivers who know where they are going. There is nothing worse than missing your plane because the driver doesn't know the back routes to the airport. I once nearly missed a flight to Miami to shoot HOW TO MARRY A MILLIONAIRE when the taxi, booked by the production company, broke down on the way to the airport! Luckily my 7 pieces of baggage and I hitched a lift with a charming business man who took pity on me.) So who are these paragons of airport travel virtue? The company is called MY CHAUFFEUR and can be reached at:www.mychauffeur.net 087 009 21232 Excellent for all sorts of trips, not just airport runs.

Gorgeous VOLVER actress and BAFTA nominee PENELOPE CRUZ was recently named "The Lady with the most Luscious Lashes" (or was it "Lustrous"? Where do they dream up these things?!) Anyway here she is, ladies and gents, for your admiration and delectation.


PENELOPE CRUZ. C.r.: L'OREAL.



Of course LA CRUZ is feeling the benefit of the L'OREAL mascara she endorses but any mascara is only as good as the lashes underneath. Until recently there has been no way of lengthening actual lashes without mascara. However that was before LVL LASHES, a revolutionary new treatment for lashes which is absolutely the best news I have come across since I started writing this page. LVL LASHES are part of the NOUVEAU LASHES group and the treatment has just been launched this month in the UK before shortly going world wide. The technique is basically very simple: one of those totally brilliant ideas you wish you had thought of yourself. The upper lashes are straightened so that, instead of going out and up, they go straight up, thus gaining that valuable "extra half an inch", as VICTORIA BECKHAM would say and framing the upper eyelids. This treatment sounded so amazing that I had to try it myself and was thrilled with the results. The therapist gently straightens your lashes with gel, fixes them with a "volumising fix" and finishes them off with a black dye to make them look as long and thick as possible. The result is a really wide eyed look that makes the most of whatever you've got, lash wise. Once you've had the LVL LASHES treatment, it doesn't really matter what mascara you use; you've got the basis for the PENELOPE CRUZ look and can save money on mascara. You will never want to be bothered with fake lashes or eyelash curlers again. The LVL LASHES treatment is not expensive, only takes 45 minutes and lasts for 2/3 months. Brilliant! I will definitely be keeping up my LVL LASHES: watch this space.
Go to: www.lvl-lashes.co.uk to find your nearest LVL LASHES salon.

Once you have the lashes of your dreams you will be able to use more eye shadow to make your eyes look bigger and sexier. I highly recommend ID BARE MINERALS' Wearable Eye Kit / Meet The Stones, which comprises 3 light, dark and medium stone grey eye shadows which are easily applied with brushes, glide on smoothly and last for ages. Stone grey shades suit every single eye colour and give that fabulous smokey, mysterious look to the eyes: ideal for Valentine's Day – and other – assignations. Phone: 0870 850 6655 for ID BARE MINERALS' stockists.

Talking of Valentine's Day brings me to kissing and lips in general. Before even thinking about lipstick, you need to prepare your lips. My fave U.S. skin care company, DR DENESE :www.drdenese.co.uk make the best lip products: Perfect Pucker (£24.95) for above the lips and MegaLips (£17.95) for the actual mouth itself. Perfect Pucker is a dual-action, needle-free (hooray!) filler, designed to provide both an immediate and a long-term reduction in the appearance of fine lines and wrinkles above and around the lips. Filling in any fine lines produced by puckering up or, God forbid, smoking, will also stop lipstick "bleeding" which is not a good look.
MegaLips is also dual-action, plumping up the actual lips both immediately and long-term. The active ingredient of MegaLips is a derivative of the chilli family which stimulates blood flow to the lips and you will feel the product working within 10 minutes after application. Your lips will tingle as if you have just come across a chilli pepper in your Sizzling Beef! MegaLips will give you a 60% increase in lip volume and a 240 % increase in hydration as well as boosting the mouth's collagen growth long-term to make your lips look smooth, full and eminently kissable!

So, once your lips are perfectly plumped, you will be ready to outline and colour them. If you are planning to do a lot of kissing, you will need a long lasting product. The product with the most staying power (24 hours) is Semi-Permanent Make-Up queen DEBRA ROBSON-LAWRENCE's excellent Line and Seal Cosmetic Pencil which is good value at £15. A COSMOPOLITAN Beauty Award / Best of the Best winner, Line and Seal is 100% water and smudge proof and is actually clinically proven to last 24 hours. You can use the pencils just to outline the lips or to fill in the whole mouth, with a slick of gloss over the top if preferred. There is a wide range of Line and Seal colours to choose from, with Rouge, a bold sexy red, being favourite for Valentine's Day and other kissing opportunities. Contact:0845 230 2021
www.permanent-makeup.com

If, on the other hand, you prefer to keep your lips bare, use a lip balm to protect them from the elements. SKIN SHOP's Liquorice Balm, £10.99 from: 0871 871 9975 www.skinshop.co.uk will keep your lips naturally moistened and conditioned for hours and helps to prevent unsightly chapping and cold sores. What's more, Liquorice Balm really does smell and taste of liquorice and comes in a funky retro tin so makes a good little presy.

If you are an outline girl, just use a Line and Seal pencil outside the Liquorice Balm, a la award winner BORAT's new best friend, PAMELA ANDERSON.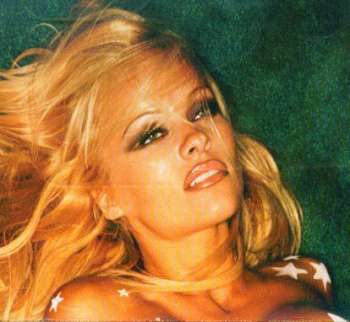 PAMELA ANDERSON. C.r.: STAR PUBLICATIONS.



Talking of presies, BRONNLEY, the famous soap manufacturers, have just brought out The Royal Horticultural Society Rose Shower Gel and Rose Bath Relaxant which are cheap and cheerful and really do make your bathroom smell like an English rose garden. Any excuse to spend more time in the bath!

On the fashion front ULTRABRA have some great new cleavage enhancing bras on the market for underpinning low cut Valentine's Day and spring frox and tops. The range is available exclusively from PEACOCKS' stores and includes lightly padded styles Venice, Florence and Capri and balconette bra Milan, all in black and white at just £10. Florence is particularly attractive with pretty lace on the sides and back and looks great under tee-shirts as well as low cut tops.

You don't have to spend loadsamoney to be fashionable these days. Here's COLEEN MCCLOUGHLIN wearing a Cowl Pleat Knit Dress for just £22 from:
www.rarefashion.co.uk You can buy RARE outfits at TOP SHOP, the fave shop of "VENUS", the leading lady in the eponymous film which got our wonderful Brit actors PETER O'TOOLE and LESLIE PHILLIPS their well deserved nominations and awards.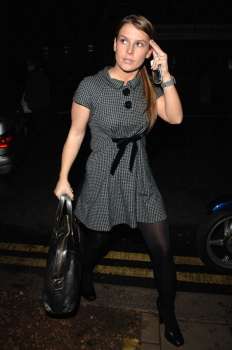 COLEEN MCCLOUGHLIN. C.r.: RARE.



Note COLEEN's shiny black tights which are the "in" accessory with this spring's mini skirts and are extremely flattering if your thighs are at all chubby.

Of course when you remove your tights all will be revealed so you may like to try MURAD's brand new Firm and Tone Serum which attacks cellulite and stretch marks and Body Firming Cream (£28.50) which firms, tones and rehydrates the skin all over the bod. HOWARD MURAD, MD, author of WRINKLE-FREE FOREVER, has enjoyed considerable success with his line of facial products and I predict that the new Body Care line will perform equally well.
Stockists: selected salons and spas and from:
www.murad.com

For those of you who have a more serious cellulite problem you must read DR LIONEL BASSOON's THE CELLULITE CURE (Meso Press, £29.95), the ultimate book on this ticklish subject. The majority of women will suffer from cellulite at some time in their lives and DR LIONEL's tome is a must have for our beauty book shelves. THE CELLULITE CURE is easy to read and beautifully illustrated with photos, drawings and cartoons and covers everything we need to know about cellulite: how we get it, why we get it, what exacerbates it and how we can cure it. Yes, happily, there is a cure: Mesotherapy, a treatment which involves injections so is uncomfortable but which really works. If you would like to order THE CELLULITE CURE or book up for Mesotherapy in the U.S. with DR LIONEL BASSOON or one of his colleagues, contact him at:001 561 838 4991www.mesotherapy.com U.K. residents should contact SISTER MALTI O'MAHONEY at THE BOSTON CLINIC: 020 7229 3904.
SISTER MALTI is the best Meso practitioner in London and has a starring role in my own book, SENSUAL PLEASURES AND THE ART OF MORPHING INTO A HEALTH GODDESS (see below) in which I came to the same conclusion as DR LIONEL, i.e. that Meso is the only treatment that works on really stubborn cellulite.

I actually "met" the gorgeous and charming DR LIONEL over the air waves while doing a phone broadcast with beautiful HEALTH AND WELLNESS CHANNEL VP, LYDIA BELTON who is a brilliant psychotherapist and hypnotic anaesthesiologist. Lovely LYDIA , aka DR TRANQUILITY (sic) developed Date Therapy to "find the criteria for your ideal man" and currently has an excellent CD out, Dr Tranquility Relaxation Therapy which is self-explanatory and can be ordered from:
drtranquility@aol.com

And now a book for the boys: THE FINAL SCORE: The Inside Story of Soccer's Trial of the Century by HANS SEGERS with MEL GOLDBERG and ALAN THATCHER (Robson Books, £14.95.) This is the true story of the match fixing trial at Winchester Crown Court of footie's golden boys JOHN FASHANU, BRUCE GROBBELAAR and HANS SEGERS told from the perspectives of SEGERS himself and (his) top sports lawyer MEL GOLDBERG with the help of sports journalist ALAN THATCHER. Needless to say the guys were found innocent and a certain seedy tabloid journo got his come-uppance. I don't know much about footie but I do love a happy ending and this book is very well written and easy to read: check it out, guys.

Thank you for your emails about RACHEL ELBAZ of RACHEL COUTURE (65 Knightsbridge, SW1 / 020 7235 3979), the new flavour of the month on the designing front. Here is another of RACHEL's gorg frox in hottest pink modelled by lovely CHARLOTTE DUTTON at THE DUCHESS PALACE. CHARLOTTE is herself pretty hot and is a snowboard champ as well as a fashion and advertising model. If you would like to book CHARLOTTE, or indeed learn snowboarding from an expert,go to:
www.charlottedutton.com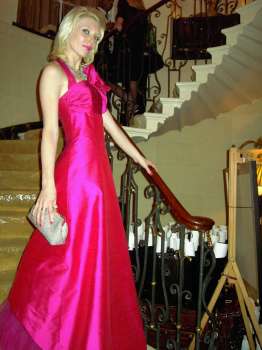 CHARLOTTE DUTTON. C.r.: CHARLOTTE ELLIS.



And now for something completely different......if you want to buy some really beautiful handmade greetings cards at reasonable prices, email:
shiraleedesigns@googlemail.com Talented young designer SHIRALEE GODDARD has cards for every occasion including Thank You, New Home, Baby Boy and Baby Girl. Her designs are really unusual and she will also make cards up to your individual request.

OBITUARY: TUDOR GATES, 1930 – 2007.

TUDOR GATES was a brilliant and prolific screenwriter, playwright and novelist as well as a president of ACTT, the Association of Cinema and Television Technicians and VP of BECTU, the Broadcasting, Entertainment, Cinema and Theatre Union. TUDOR's film credits included the iconic BARBARELLA and cult horror films, VAMPIRE LOVERS and TWINS OF EVIL and he wrote more than a hundred TV plays and episodes including THE SAINT, THE SWEENEY and, for 3 years, VENDETTA. He was particularly famous for his theatre thrillers and had long running West End hits with WHO SAW HIM DIE and WHO KILLED AGATHA CHRISTIE as well as JEFFREY ARCHER's first play, BEYOND REASONABLE DOUBT.I first met the wonderful TUDOR when I was still a drama student and he has always been a dear and supportive friend. We ran MCREADY'S ON THE RIVER, a club for peeps in "showbiz", together in the 90s and he gave me a neat barbecue for a wedding present: I always think of him when barbie-ing in the garden and I always will. Popular TUDOR was one of the nicest chaps I have ever met, a real gentleman, always good tempered and very fair. He was still writing when he died and he will live on through his work. All at HGUK send heartfelt condolences to TUDOR's family and his long time friend MICHAEL ZEFFERTT who is ensuring that his most recent works are published and produced.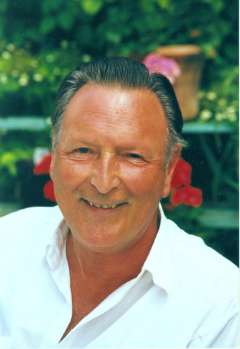 TUDOR GATES. C.r.: private collection (OTG).



Thank you for all your emails about CELEBRITY BIG BROTHER. I think the UK's greatest media expert MAX CLIFFORD put his finger on it when he said "(the producers) knew exactly what would happen when they threw (The Goody morons) in." So did former BB contestant DEREK LAUD when he said "it was a story of beauty (SHILPA) and 3 beasts" (JADE, DANIELLE and JO) or, as EDWINA CURRIE called them "the 3 witches with a B"! The terrible bullying was probably a lot more about jealousy and class ("you can't mix class with no class" as the wise JERMAINE pointed out) than about racism (GOODY is herself mixed race.)
Personally I think JERMAINE is divine, DIRK is really sexy, IAN is adorable and who can blame the pop stars DONNY and LEO for walking out under the circs? I just wish the legendary KEN and sexy CAROL could have lasted longer. The beauties, the serene and dignified SHILPA and my hilarious and amazing pal CLEO always looked gorg and will probably work and work from now on in. "JYDE" has ensured that the British public will fall totally in love with SHILPA. MS GOODY is allegedly changing her name by deed poll to BADDY! She might think about changing her first name too as JADE means "a delicate and beautifully coloured semi- precious stone, much valued for jewellery"! Many of you said that CBB was unutterably boring this time until they threw the you-know-who.s in and CBB might think about putting in celebs who have plenty to say and are not afraid to say it about their friends, family and/or colourful pasts next time (if there is a next time!) BTW doesn't the sterling DAVINA look good with her hair scraped back? I can't help rooting for SHILPA: that lady is a saint. By the time you read this we will all know who won and keep your comments coming please. Now here, possibly for the last time if the press get their way and sink her without trace, is the most reviled woman in BB history, "JYDE," with lively Welsh (she can't be that racist!) gal LIZ FULLER from QUIZ CALL.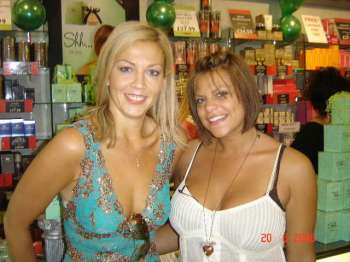 JADE BADDY with LIZ FULLER. C.r.: CHARLOTTE ELLIS.



Thank you for reading my page. Do check out my personal web site at:
www.sallyfarmiloe.com write to me at: sally@hotgossip.co.uk
and buy my best selling book and vid below.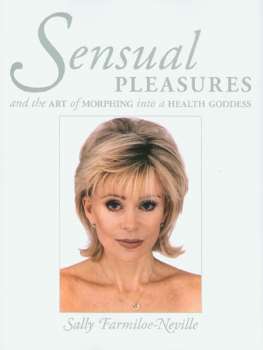 SENSUAL PLEASURES AND THE ART OF MORPHING INTO A HEALTH GODDESS (£16.99) is available from the following outlets:

Delancey Press - orders@centralbooks.com or 0845 4589911
ISBN: 0780953911998

LOO TIME VIDEO available from:

farminghamprods@aol.com and:

http://www.121music.com/pages/video_01/home.html