FRED OLSEN CRUISE LINES

For Cruise Info contact Larry at Wickers World Travel. Tel: 01872 540690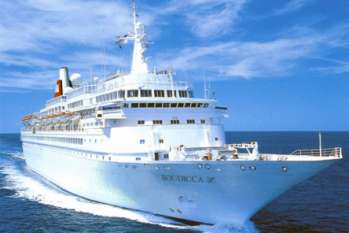 CRUISE SHIP BOUDICCA



Cruising is becoming more and more popular, I spent Christmas and New Year aboard the BOUDICCA, cruising to the Caribbean and sunshine, visiting, Tenerife, Barbados, Grenada, Dominica, Antigua and St. Marten. Had a wonderful welcome, first night aboard, invited to dine at The Captain's Table, Captain Johan Andrew Dyrnes is charming and nautical, the perfect host.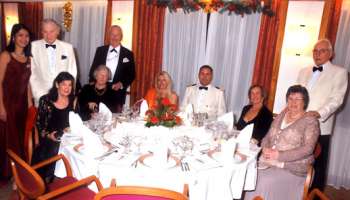 CAPTAIN'S TABLE



One of the Chef's recommendations was "Black Watch" – a seafood salad – a medley of marinated salmon, mussels, scallops and shrimps, served with sour cream, salmon caviar and chives. Like all the Cuisine throughout the 4 Restaurants, it was excellent. I spent so much time Wining and Dining, I took few shore Excursions.

The Catamaran Champagne Cruise from St. Marten, I could not resist. Apart from the golden bubbles, there were sightings of Flying Fish and Dolphins. A fabulous pink, sandy beach for swimming – on Deck again, listening to great music, sipping Champagne, nibbling snacks and dancing on the Deck.

New Year's Resolution - I shall never cook again – I love being waited on by courteous Philippine staff in a choice of 4 Restaurants I dined most evenings in the 'Four Seasons', choosing 4 or 6 Courses from a mouth watering Menu.

I particularly enjoyed Asian Dining in the 'Secret Garden' Restaurant, dishes from Thailand, India, The Philippines, Japan, Indonesia and China.

In order to keep my Slender Gourmet proportions. I exercised every morning, walking around the Outdoor Dec k – 5 laps equal 1 mile. I exercised waving my legs in the air and touching my toes by the seawater Swimming Pool – breathing in lots of healthy ozone fresh air, and then relaxed amidst the warm bubbles of the Jacuzzi.

Every evening I went to the ninth Deck where there is an elegant Bar and the Concert Pianist played romantic melodies. Lounging in luxurious armchairs, I sipped the Cocktail of the Day and watched the setting Sun and dancing, white curl tipped, waves of the Ocean.

After Dinner – Show Time, in the Neptune Lounge. The Boudicca Theatre Company present their Dancers, Vocalists and Comedians, accompanied by the Boudicca Orchestra.

In between Shows there is Music for Dancing, and one of the 4 Gentlemen Hosts is likely to twirl you around the dance floor in a romantic Waltz or courteously guide you under his arm in a lively Cha-Cha or Rumba.

GREAT NEWS

THE FRED OLSEN Cruising Line is launching their new Ship, THE BALMORAL, in 2008. Their Inaugural Cruise covers the Adriatic, Canary Islands, Caribbean and Mediterranean.

Perhaps they will have a CHAMPAGNE CLUB LOUNGE, where a Show Time Champagne Cabaret could be presented.

Long Live the BUBBLES - Joan – The Slender Gourmet – Eat It On - Exercise It Off