SALADE, 52 Stratton Street, (Green Park), London.
Tel: 0207 499 6565 and
3 Old Bailey off Ludgate Hill, London.
Tel: 0207 248 0612

DETOX is the IN word after Xmas and New Year Festivities, when over indulgence may have played havoc with the digestive system and bulging tummies. The answer is SALADE, an informal Restaurant and Take Away Eatery.

The emphasis is on fresh ingredients. When I arrived for lunch I chose a bowl of mixed salad leaves, which formed the base for my choice of ingredients ranging from Pasta, Fish, Cheese, Beans, and Vegetables.

More than just Food, it is also great entertainment, when it gets busy your Salad Specialist will step up the pace and the whole place is buzzing with twirling bowls, flying tongs and the sound of people trying to decide whether to have sun dried or sun sweetened tomatoes.

Breakfast is served from 7 to 10 am. A smorgasbord of freshly prepared fruits, which come with a combination of muesli, yoghurt, seeds and honey. Hot porridge is a real winter treat.


LE VACHERIN, 76-77 South Parade, Chiswick, London, W4 5LF.
Tel: 0208 742 2121

INTOX is the word associated with having a Good Time, which happened to me at this French Restaurant style Bistro in Chiswick. A small Party, 12 of us in all, arrived to celebrate Julian White, Ambassador of Le Confrerie du Sabre d'Or, being made Ambassador of the Year b y the Grand-Maitre in Deaville last November. Heroically he brought back Jeroboams of Bubbly for his fellow officers to enjoy.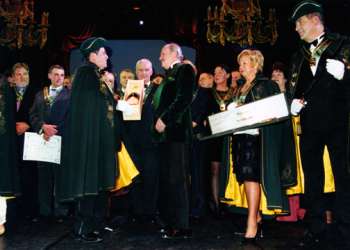 Lots of sprightly bubbles, lovely food, amusing conversation and anecdotes and we were all bubbling with intoxicating mirth and pleasure. Fortunately for me, dependant on public transport, the London bus terminates outside the Restaurant. So when I left the Restaurant, holding a glass of Champagne, the bus was waiting and off we went, taxi style service, a smooth drive to Piccadilly. First time I have had the pleasure of sipping Champagne on a bus – I hope it happens more frequently.

The Restaurant specializes in best quality, classic French cuisine, Bistro style. For Cheese Connoisseurs, the Vacherin Mont d'Or Season is about to start. The Vacherin Cheese is famous for its distinct and tempting taste and also for its famous texture.
Fondue style Dinners where guests can dip their bread and pour cheese over their dish. I shall definitely visit – they offer 'value for money" without cutting corners.

CHAMPAGE is for Serious Drinkers ---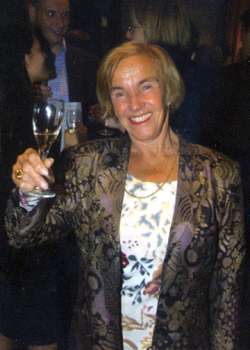 HAPPY BUBBLES - JOAN – THE SLENDER GOURMET.