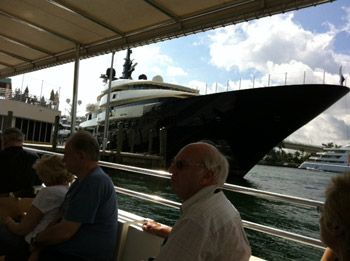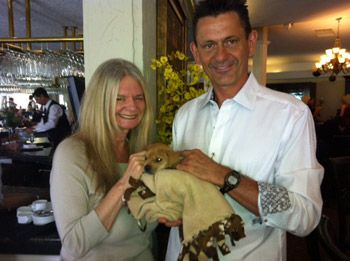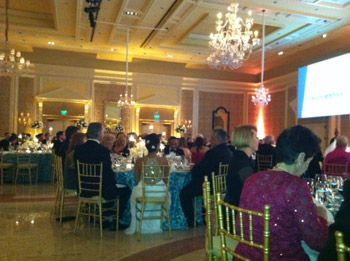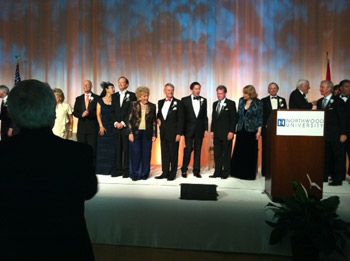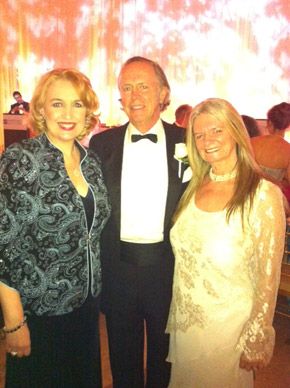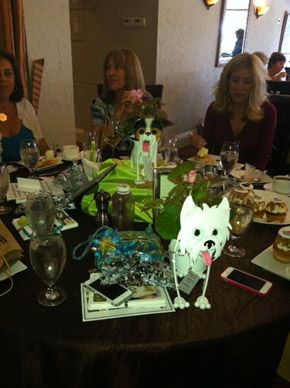 Picture Credits
1. Spielberg's yacht worth over $200 million at 282 ft what a boat
2. Valerie Austin with dogs for adoption at the glamorous lunch for 'PAWS'
3. The outstanding Breakers Hotel where multi millionaires dine at Northwood University Awards Gala Dinner
4. Winners of the prestigious 'Outstanding Leader' Award gather on stage.
5. Pat Riley CEO of Clientele, a very talented scientist, Robert Forbes, Vice President of Forbes Magazine and author Valerie Austin
6. Delightful lunch table for PAW'S charity


Working and Socializing

I am now in the US for the winter and feel rather guilty at wearing a sundress while the UK is so cold. My life here is either relaxing or preparing for when I return to my business in the UK, organizing my September Hypnotherapy Conference and setting the dates for my hypnotherapy training.

I attend as many, if not more, charity events here than when I am back in London and I find that all the parties and events I go to have a large business aspect. It is a wonderful way to meet people who can give me ideas for my business while finding interesting people in hypnosis for research and who are interested in learning the profession of hypnosis on the courses that I train twice a year in the Spring and Autumn.


Elegant Charity Events

My favorite charity is 'Unicorn Children's Foundation' in Florida where so many of the wealthy ladies here volunteer their services and work for 'no' pay. They work as hard as anyone in a full time job and have raised several million dollars, including donating a significant amount to Nova University which has opened a unit for special needs children.

The charity was founded in 1994 by Mark Rosenbloom MD, shortly after his three year old son was diagnosed with a severe communication disorder. Up until that time, he had been told by numerous professionals that his son, who was not yet speaking, would "grow out of it." But he didn't.

They hold the most spectacular balls and events that simply are a must to attend. They also have themed events and one such event was at a very interesting nightclub called Platforms in Boca Raton. After the charity event we stayed on and were amazed to be transported into the 70's. It has a proper disco look with flashing lights all over the place but what made it different was not just the absolutely fantastic choice of 70's music but the large screens with actual 70's stars performing, so it really takes you back to the age of fun and discos. It was full of smart baby very sparkly baby boomers dancing the night away and having a terrific time. The charities' next event is their annual Spring ball at Donald Trump's Mar-a-Largo in Palm Beach which is incredibly glamorous and is another wonderful opportunity to meet interesting people that are not only supporting a wonderful charity but can turn out to be great business contacts. Donald and his wife Melania are co-chairs. What better way to enjoy a vocation such as hypnotherapy and combine a little business with a lot of pleasure.

Another very interesting charity with lots of fascinating ladies is PAWS which saves animals and gets them adopted to good homes at their scrumptious lunches and events. They advocate a 'No Kill Nation' stopping the killing of healthy animals in need of homes. Their philosophy is RESCUE - REHABILITATE - REHOME - REJOICE. A recent lunch held at a very glamorous golf club featured a fashion show and an auction with mouth-watering gifts. The lunch was a sell out and at $85 a head - not cheap but had value. The animals were adorable and it was very hard not to take one of them home. All six of them were adopted during the lunch and of course they raised a significant sum of money.


Think and Grow Very Rich

Then I was off to a very elite charity gala that I was delighted to be invited to although my pocket was very depleted with the ticket price. It was the 'Outstanding Business Leader Awards Gala'. However, the money does go to financing this very exclusive private University and was worth every dollar to learn and be amongst the heads and executives of multi-million dollar companies discussing how they made their fortunes. Eight business leaders received the awards including Robert Forbes of Forbes Magazine. They were all given half an hour to explain how they made their immense fortunes. I felt like a modern day Napoleon Hill who wrote 'Think and Grow Rich'. He interviewed many of the top industrialists to find out the secret ingredient of their success for his book and that is precisely what I was doing. I was able to ask Robert Forbes for his views on my latest book and he said, "Go for it". So I am.

The one common theme in all their lectures was that you have to work very, very hard, be focused and never, ever give up. Working hard meant working up to 15 hours a day, not just a few and then moaning about it. Interestingly the laws of success haven't changed since the days of Napoleon Hill...


A Cancer Miracle

Well as you see in the photograph with Spielberg's 282ft yacht and over $200million to spend he may have great wealth but I have some exciting news about my friend that is worth more than any money can buy. She found out she had stage 4 cancer in November with a 15% chance of survival. She has now had an operation and she had just received the results as I was writing this article. The cancer surgeon said she has never seen anything like it (which is what they usually say when hypnosis has been successfully used). She is now stage 2 with an 89% chance of survival and we have some very interesting proof of the involvement of hypnosis in her recovery.

She still has a long way to go but now there is a whole different attitude and solid hope. Hypnosis was used to both change the attitude towards diet (to include mostly organic food) and taught her an intensive guided imagery in deep hypnosis specially adapted to her condition.

My friend, who is a very talented attorney, worked long and hard with a great deal of self-hypnosis and focus for several weeks. We are so very, very excited - I was so worried about losing her. However, she is strong with a brilliant mind and between us we have made fantastic headway.


Frightened at what you eat?

Unfortunately you should be. Greed is making sure the food producers are behaving badly. What with horsemeat and pig passed off as steak and the GM (genetically modified) food now having finally been proven to be dangerous for human consumption and even dangerous to humans if the animals are fed with it. You would think it would be a major embarrassment to a government that has not long since allowed it to be grown in the UK. The US have been allowed to grow and sell it for some time.

The research was led by Nancy Podevin, who was employed by EFSA, and Patrick du Jardin, of the Plant Biology Unit at the University of Liege in Belgium. The findings are very powerful because the research was carried out independently rather than by GM critics.

They found that fifty four of the eighty six GM plants approved for growing food in the US, including corn and soya, contain the viral gene, which is known as 'Gene VI'.

In the UK these crops are typically fed to farm animals producing meat, milk and eggs. The researchers found that the presence of segments of Gene VI 'might result in unintended phenotypic changes'. These changes, which include the creation of proteins, are toxic to humans. This could also trigger changes in the plants themselves, making them not less vulnerable to pests but more vulnerable.

This means that the GM approval process, which has been in place for 20 years, looks to be fatally flawed.

They suggest all the crops and food products involved should be recalled.


TIPS

Food proven to help keep the wrinkles at bay

They say that "you are what you eat" and these foods are sure to make a difference to your skin...

Brightly colored berries: These contain antioxidants, which help neutralize free radicals, which can damage the DNA of healthy skin cells. Blackberries, blueberries, and strawberries have some of the highest antioxidant levels of any food. New research has found there is a link between the antioxidants in the berries that reduces UV damage.

Cherries: The chemicals in this tart fruit can help inhibit pigmentation and contain a hormone that looks to slow down the aging process. Good to add to your salad.

Green Tea: One of the most powerful skin foods is strangely a drink. It is called an antioxidant powerhouse, providing protection against skin damage such as that caused by UV rays that can lead to cancer. The tea helps repair skin and is said to fight premature aging.

Turkey: This is a lean protein, providing the skin with the building blocks for collagen and elastin. These fibers help skin look firm and wrinkle free.

Olive Oil: This fine oil is crucial for healthy skin. It's a must for the Mediterranean diet. It helps fight oxidative damage, from the sun or pollution, and is said to prevent inflammation, which causes premature aging. It also helps hydrate your skin from the inside. You can also apply it directly to skin and hair for an intense moisturizing treatment.

Salmon: This meaty fish has high levels of omega-3 fats known to fight inflammation, premature aging, and skin irritation. Plus, researchers have found that oily fish like salmon can help reduce psoriasis symptoms and reduce the risk of non melanoma skin cancer. Most fish except tuna is farmed so it is better to go for tuna or the wild variety and check where it is from. I wouldn't buy from China or certain countries that are hard to check their origin.

Shrimp: The tiny shellfish have big nutrition benefits containing a potent antioxidant, and omega-3s for additional antioxidant power. They also contain zinc, an excellent anti-inflammatory that scientists have found can help reduce acne breakouts. Again try and get wild shrimp. It is more expensive but worth it in the long run.

Spinach: This leafy salad staple contains omega-3s, the nutrient that our skin can't get enough of, and with high levels of Lutein means it provides even more defense against damage caused by UV rays. One study found that women who ate the mostly green vegetables wrinkled less.

Sweet Potatoes: An alternative to potatoes, the sweet potato contains high levels of beta-carotene, helping the skin to look smooth and fresh.


Learn Self-Hypnosis with my iPhone apps in the App store

I have all my books, even with audio, selling as apps for the iPhone so just type in my name in the iTunes store and you should find around 18 to choose from ranging from 'Hypnotize your Bank Manager' (which is one of the free apps) to Stop Smoking. Right after the software developer designed the software (and of course having listened to the hypnotic recording several times) he got the backing for his company to go public so it worked for him. Also available are 'Grief', 'Fear of Flying', 'Attracting the Right partner' and 'Stop Drinking' which had a good review in the iPad Apps Directory.

You can check about my training on a new career in hypnosis on www.austinhypnotherapytraining.com
Or email me at valerieaustinhyp@aol.com


Eds Note: VALERIE AUSTIN is an author of six successful self-help books including SELF HYPNOSIS (Thorsons), journalist and trainer with an international reputation in the field of hypnosis. Her best-selling books and training help people achieve their full potential. She founded the Austin Corporate Stress Management Company focusing on reducing stress and anxiety amongst executives and CEO's. She is also founder of UKRAH (1992) The UK Register of Advanced Hypnotherapy. Valerie has also worked as a consultant in hypnosis at the Priory Hospital, the UK's equivalent to The Betty Ford Clinic, which specialises in food addiction and alcohol abuse. Her work in the film industry (Hollywood) interviewing movers and shakers, producing TV news segments and publishing celebrity magazines in London gave her invaluable experience for her current Harley Street practice.