Welcome to the Joint December 2007 and January 2008 round up of news and views on UFOs, alien abductions, crop circles, ghosts, the paranormal, the unexplained, the weird and the wonderful.


Now That's Weird Conference

Details of one of the big paranormal conferences of 2008 have already been announced. Organised by author and Glastonbury Radio host Ross Hemsworth, the Now That's Weird Conference is scheduled to take place on the Summer Solstice weekend, 21 and 22 June. The conference will take place in the Assembly Rooms on the High Street in Glastonbury. Speakers will include Professors JJ and Desiree Hurtak, Paola Harris, Andrew Collins, Malcolm Robinson and Adrian Gilbert. Topics will include the Keys of Enoch, UFOs, Mayan prophesies, stargates, ghosts, Rosslyn Chapel and EVP. I will be giving a new presentation entitled Spinning The Saucers, detailing how news management techniques are used by the government to ensure the subject is presented in a way that best suits the MoD. Check out www.nowthatsweird.co.uk for more details.

The Last Supper

Da Vinci Code enthusiasts got a treat recently when a 16 billion pixel image of The Last Supper was posted on the internet. Dan Brown, drawing on the work of researchers such as Lynn Picknett and Clive Prince, speculated that hidden messages were encoded into the picture and suggested in particular that one of the figures was actually Mary Magdalene. Check out www.haltadefinizione.com and see what you think.

Alien Worlds

Alien Worlds is a new magazine coming to the newsstands very shortly. It is the brainchild of Stuart Miller, an energetic British ufologist who previously ran the successful ezine UFO Review. Alien Worlds will feature subjects such as UFOs, SETI and astrobiology but will also delve into broader issues concerning extraterrestrial life and indeed the origins of life on Earth. Check out www.alienworldsmag.com for more details and look out for the magazine in newsagents. If you are interested in the unexplained, do try to support magazines like Alien Worlds and Beyond by buying them and maybe taking out a subscription.

Laughlin UFO Congress and Film Festival

I am lucky that as a writer on UFOs and the unexplained I get invitations to film TV programmes and speak at conferences all around the world. In October I was filming in Greece while in November I had lecture and filming commitments in Denmark, America and Brazil. I have now been invited to speak at the 2008 UFO Conference and Film Festival at Laughlin in Nevada. This marathon conference runs from 23 February to 1 March and other speakers include Budd Hopkins, Peter Robbins, Russell Targ, Richard Dolan and many many more. Check out www.ufocongress.com for details of this conference.

Piatkus Books Spring Catalogue

I have just received the Spring catalogue from Piatkus Books, a publishing company with a proven track record of publishing books on the unexplained, the paranormal and various New Age topics. Alongside titles on unrelated subjects such as gangsters, mercenaries and The Beatles, there are some interesting new books on topics such as Reiki, NLP, clairvoyance, Jesus and Mary Magdalene. Check out www.piatkus.co.uk and have a browse.

Nick Pope The Man Who Left The MoD

Copies of my DVD are selling well and it has been favourably reviewed by various magazines and websites. Made by Reality Films, this DVD consists of over one hour of hard data about the MoD UFO project, covering its history, methodology, controversies, cases and conclusions. You can order it from www.reality-entertainment.com/filmsor on Amazon. This was the first interview that I gave following my controversial resignation from the Ministry of Defence in 2006.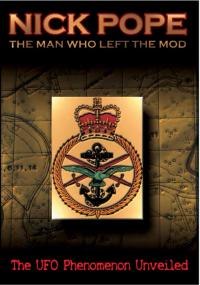 Seasons Greetings

Finally, I would like to wish all my readers a Merry Christmas and Happy New Year. In particular, my thoughts are with the brave men and women currently serving with British, American and other Allied Forces in Iraq, Afghanistan and other overseas locations. You may be far from home, but you are still in our thoughts. Stay safe.

Ed's Note:

Nick Pope has written four books. Open Skies, Closed Minds is an overview of the UFO phenomenon with the emphasis on his official Ministry of Defence research and investigation. The Uninvited is an overview of the alien abduction mystery. Operation Thunder Child and Operation Lightning Strike are science fiction novels about alien invasion, incorporating UFO and abduction data. All four titles are available from most good bookshops and all the usual Internet book sites.

Nick Pope has a website, which can be accessed at www.nickpope.net