Welcome to our bumper December / January issue, dear readers.

We hope our cover shot of gorgeous LIZ FULLER frolicking in the surf at Venice Beach, California will cheer you all up on these short, dark UK days!
Lovely LIZ, a 2nd time cover girl for HOT GOSSIP UK, is a CHANNEL 5 presenter and former MISS GREAT BRITAIN. She is not just a pretty face but also has her own production company which is currently making shows for SQUARE TV, a new and exciting channel launching in January 2008. Lucky viewers will be able to see even more of LIZ on SQUARE TV, which will have a big Net presence........................watch this space.
LIZ's own website is:
www.lizfuller.co.uk

LIZ is wearing a cute mini dress by hugely popular London based designer CHARLES SVINGHOLM, friend of His Gorgeousness RUPERT EVERETT who currently has 2 films out: STARDUST and ST. TRINIANS, where he plays both the Headmistress and her brother!
CHARLIE's other celeb clients include MADONNA, SIENNA MILLER, CHELSY DAVY, COLEEN MCCLOUGHLIN and NANCY DELL'OLIO. His contact details are:
07909 518 338 / www.charlessvingholm.com


Now here's a close up of the delectable MS FULLER for our male readers!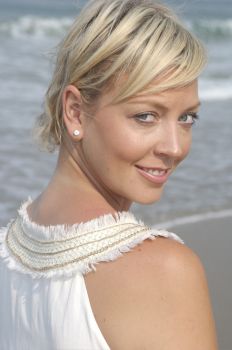 LIZ FULLER. C.r.: NIK HUDSON.





At this time of year all at HOT GOSSIP UK would like to join our WEIRD WORLD Editor NICK POPE and our CRIME, SAFETY AND PROTECTION Editor JACQUIE DAVIS in sparing a thought for our Armed Forces around the world and for all our Emergency Service workers. Please check out NICK's and JACQUIE's pages.
Elsewhere in this issue VALERIE AUSTIN gives timely advice on how to tackle illness and obesity and when NOT to buy an apartment abroad in MODERN NUTRITION AND HEALTHY LIVING, JAMES KNIGHTS tells us when TO buy an apartment abroad - and where - in PROPERTY ABROAD and LADY JOAN OLIPHANT - FRASER regales us with restaurant news.
Take a look at my own CELEBRITY FASHION, FITNESS, HEALTH AND BEAUTY page for a bumper crop of fab products, present ideas, books and treatments plus celeb beauty news and go to JOE ALVAREZ' CELEBRITY column to see which celebs have been slowing JOE down - or maybe not!

As always our esteemed Ed in Chief GEORGINA sends all our readers her very best wishes, as does JAMES, our dynamic Publisher and GRAHAM, our talented and hard working Designer.

If you have any queries about anything you read in HGUK or are interested in sponsorship or advertising of our fab award winning magazine, please contact me at:
sally@hotgossip.co.uk


Do check out my personal website at:
www.sallyfarmiloe.com
You will see I now have a couple of web length DVDs on the site and we hope to add this sort of action to HGUK soon.
In the meantime I too would like to send my very best to all our readers all over the world until our next issue in February.


SALLY FARMILOE - NEVILLE.
Deputy Editor in Chief / HOT GOSSIP UK.