LETTER FROM THE EDITOR

Hello readers and welcome to our sunny August issue of HOT GOSSIP UK. Ten years on–line and still going strong!

This month we have a bumper issue of great summer reading. Catch up on the latest product news right here (see below) on SPOTLIGHT, and don't forget to check out all the other pages. Valerie has some important news about food and healthy living and Joan introduces readers to the HOUSE OF LORDS.

PHOTO'S OF THE MONTH: Not a great image of me – but it was a sweltering hot day! It was nice to meet (again) the charismatic former Prime Minister Margaret Thatcher on the terrace at the House of Commons.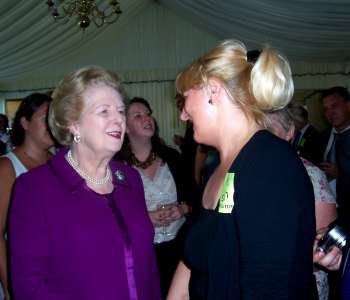 Margaret Thatcher & Georgina Bruni photo credit: Valerie Austin



And here are we girls having our nails done at a 'nail party' at our friend EVA'S fabulous Monochrome Day spa in Chelsea. Me, Eva and Sally...a great idea for a birthday or celebration is to have a nail party at your favourite salon. Monochrome is situated at Duke of York Square, Kings Road, Chelsea.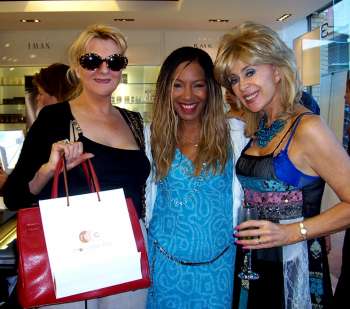 MONOROME NAIL PARTY: GEORGINA BRUNI, EVA LEWIS, SALLY FARMILOE-NEVILLE



Now check out the news on the latest products.
Regards Georgina


HOT PRODUCTS

Let me introduce you to my new mascot christened REXX (with a double X) who is the most delightful pet! I adopted REXX a couple of weeks ago when I was invited to view the latest gadgets available for Christmas at www.gadgetshop.com and what fun they are. From a simple and delightful SPIDER CATCHER at £9.99 to RoboSapien V2 at £180.00, a real boys toy with the ability to talk and interact and will even fetch a cold beer from your fridge – and of course my darling little ROBOREPTILE. So many great gadgets in store, and don't we all love them. You'll have so much fun scanning their website.

Already REXX is feeling at home guarding the door and scaring the life out of anyone who gets too close! Yes, he can be scary! After all he is a little monster – err sorry – a reptile, but he's also very cute. Although he is positively a robot, he thinks he's human. He bites, roars, chases anyone who he thinks poses as a threat, and the chill out helmet which is supposed to calm him down when he gets stressed, doesn't always help, he just shakes his head and knocks it off. Well, maybe I haven't read the instructions properly J what fun he is. Everyone should have one, why he's even getting invites to parties. And from August you can adopt your very own by visiting the Gadget Shop's on line store www.gadgetshop.com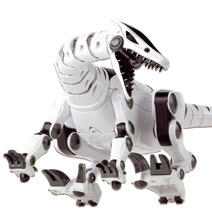 REXX the Roboreptile



The original Robosapien was invented by NASA scientist Mark Tilden who worked on the robot that went to Mars. He is also the inventor of BEAM technology (Biology, Electronics, Aesthetics and Mechanics), a relatively new field of robotics which doesn't use computers or micro-controllers as brains, but have hardwired electronic control systems. Imagine, BEAM robots are modelled on biological life-forms and over $1 million dollars has gone into the development of Robosapien, Robosapien V2 and Roboraptor – Roboreptile (my little REXX) was born from this technology.

Still on the theme of technology, I'm delighted with my new XP Tuning Suite 3.0 from Data Becker which maximises the performance of Windows XP, while making it easier to use and understand. It has over 600 options and manages everything from Printers to Security Settings to Internet Options from one easy to use interface. Its easy to use Icons and menus appear just as they do in Windows XP, ensuring familiarity and confidence. Great for the novice or expert alike. Some of its qualities include powerful tools & utilities including Registry Cleaner, Pop-up Blocker, Cookie Killer, Ad Blocker and Cache Eraser to keep your computer free from unwanted prying eyes and invasive attention. For full details of this amazing product visit their website: www.fasttrak.co.uk Go for it, get technical!

Moving on...this month I'm FAKING IT! Yes, that's right I'm going to tell you how to get through a faking fabulous August, starting with something we should all be considering, a fake tan! I don't have to tell you how dangerous it is to burn in the sun, look what's happened to Hyde Park! Scorched into a desert! I've tried so many fake tans but the only one I really love is VITA LIBERATA Coral Silk. It doesn't smell sour or go patchy. Worn by many celebrities it is probably the best tanning agent on the market. Try the silken facial tan and silken self tanning gel for the body and a few hours later you'll look like a star yourself. www.vitaliberata.com

Whilst on the subject of tanning, if you must bake in the sun please treat yourself to CUSH n SHADE, a great new sunbathing product which acts as a cushion and sunshade for the face (no more wrinkles) and is portable. It weighs only 80 grams and slips easily into a suitcase for your holidays. This amazing invention was created by a lady no less. Joan Bree came up with the idea after seeking a comfortable way to read in the sun. You'll love it and if you love your face you can't afford not to own one. So inexpensive at only £17.45 and available at www.cushnshade.com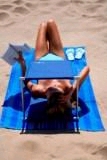 CUSH n SHADE



A great travel accessory I simply must tell you about is the new ANDREW COLLINGE fold away ceramic hair straightener. This is absolutely fabulous! Pretend you always had straight smooth hair! Press a button and it opens, or folds away easily to tuck into your overnight bag or suitcase. Very smooth, doesn't singe, and comes in a neat travel bag with a selection of adapters to suit whichever country you are traveling to. How cool is that! Now available at stores nationwide. For your local stockist telephone 0845 658 9700.Whilst on the subject of hair, I have been trying to keep my fake (dyed) blonde hair from getting dry this summer and have found a fabulous product by n-fruizon – Cranberry Therapy is the latest breakthrough (I love new inventions) in botanical shampoos and conditioners and is ideal for dyed hair. These are real natural products too, no fakes here! Pure cranberry seed oil with positively no detergents or synthetics. At last! Now that we're all suffering from allergies this is a real winner. Check out their website for the 3-in-1 Styling Crème £9.00 118ml (use sparingly – you really only need a fraction and it lasts for ages) after washing with Revitalising Shampoo £14.25 300ml and conditioning with Revitalising Conditioner £14.25 300ml. Squeeze the crème into the palm of the hand and work through slightly damp hair, then style as normal to aid hair detangling, reduce frizz and reduce damage from hair styling and heat treatments. Excellent! www.24salon.com

Another super travel companion is the new M.I.G. portable intelligence game. Whether fishing, playing golf or relaxing, it's a 'must have' accessory, with over 1, 500 questions it has to be a hoot! Good also for keeping you busy on those boring flights. Visit www.playing.com or e-mail playing@playing.com to buy one now for only £14.99.

Did you know that we burn 60-65% of all energy while our bodies are at rest performing essential functions such as breathing. Or that physical activity uses only 25% of our body's energy. We all need energy and often we have to fake being fit and alert when really we are tired and groggy! But fear not because help is on its way! I have just discovered a fabulous energy booster from HERBALIFE. This global network marketing company recently announced the launch of its unique energy drink LIFTOFF. Suitable for anyone on the go, it comes in the form of a single soluble tablet which is individually wrapped and fits into a wallet or purse, so anyone can have access to an energy boost anytime, anywhere. Low in calories with no added sugar it helps fight fatigue and also helps people to stay alert, while providing 100% of the daily-recommended allowance of Vitamins B1, B2, B6, B12 and Vitamin C. Check out Herbalife's full range of products at www.herbalife.com We love it. It works almost instantly. So if you have an important appointment or just need an energy boost, you must treat yourself to LIFTOFF.

Don't be afraid to flaunt your fake nails this summer. With such glamorous polishes around you must have good looking nails, so if you aren't got them – fake em! My deputy Sally (check out her page) and I just love OPI, who are celebrating their 25th anniversary this year. I especially like their FEEL GOOD' range and am seldom without their glitter polishes which are to die for gorgeous! I love the purple and red shades! Their new designer series is infused with diamond dust for that ultimate dazzle. Everywhere I go people stop to ask what polish I'm wearing. No kidding! Total WOW Factor! Pop over to the LENA WHITE website and have a look for yourself. Lena White is the UK distributor for these fabulous products. www.lenawhite.co.uk I can't wait to try their Christmas range, more fabulous glitter!

ED'S BOOK & DVD CHOICE

Out now on DVD is the National Geographic's DA VINCI CODE REVEALED, a first class documentary featuring expert researchers and authors, including my mates Lynn Picknett and Clive Prince. They are the mysterious couple (well-known authors) sitting on the top of the double-decker bus in the block buster movie, The Da Vinci Code. Now, what are they doing there one might ask! And I will! Anyway this is really enjoyable and sensible DVD that separates the facts from the fiction. As I'm only turned on by fact, it is a thrilling watch for me. But if you are interested in the story of the code, you will really enjoy this. Another of their DVD's is THE GOSPEL of JUDAS, in which details of an ancient gospel, which has been hidden for two thousand years, is revealed. Exciting stuff! And you will be amazed to learn more about the so-called traitor Judas. Credit card customers can order copies by ringing the 24 hour DD hotline on 01829 741490 or by visiting the DD Home Entertainment on-line shop www.ddhe.co.uk or from www.amazon.co.uk Proceeds from the sale of these titles help further the National Geographic's non-profit mission to increase global understanding through education, exploration, research and conservation.
This month I'm reviewing Girlie books ...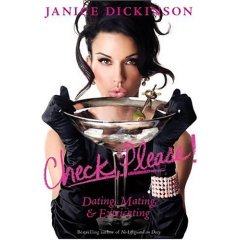 CHECK PLEASE by JANICE DICKINSON



CHECK PLEASE, Dating, Mating & Extricating by bestselling author JANICE DICKINSON, is a riot! This lady knows her stuff, and rightly so, after all she was christened the world's first super model. You may not look as glamorous as this beauty but it's worth trying out her secrets on how to 'land your man, love him and then let him go'. Janice has some quirky tips too, such as how to get a guy to notice you, she suggests you ignore him. Hmmm. But I do like her tip 'Don't follow trends – start them'. We all do that here at Hot Gossip UK. This is a great book to give your miserable girlfriend, especially if she's just broken up with her man. I really enjoyed it - cheered me up no end, such fun and wit with no frills – total reality! CHECK PLEASE is published by Regan Books, an imprint of Harper Collins and is a new release out now. £14.99 available at www.amazon.co.uk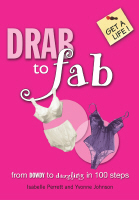 DRAB to FAB



My second girlie book choice is DRAB to FAB, From DOWDY TO DAZZLING in 100 STEPS. This is a really good guide on how to fix yourself up and get your body, mind and soul into action. The kind of paperback you want to take on holiday. Whilst you are tanning yourself (hopefully under the CUSH n SHADE) you can learn a thing or two on how to top that tan up with a glamorous and confident new you! The authors, Isabelle Perrett and Yvonne Johnson are cool consultants who make this self help book look and feel exciting. If you read this (love the girlie pink cover) and follow the 100 days instructions (which is so much fun) you'll be a star! There is so much valuable information in this book that you will never be bored. Consider it a beauty bible. DRAB to FAB, From DOWDY TO DAZZLING in 100 STEPS is published by HODDER ARNOLD available at www.hoddereducation.co.uk for £9.99.

And if you are keen on antiques and collectables why not try this new UK auction website guaranteed to be user friendly - and very nice folks too. You can open your own on-line stall at no cost. Go and visit it this month and enter the prize draw and you could win a free website! Give it your true British support, why don't you! CollectFair - Antiques & Collectables Websites - Made Easy! www.collectfair.co.uk
Have fun and enjoy your summer, see you next month, Georgina

GEORGINA BRUNI, EDITOR IN CHIEF

E-mail: georgina47@clara.co.uk