Charismatic newsreader CAROL BARNES sadly passed away last month at a relatively young age. She was hugely popular and will be greatly missed on our screens. All at HG send condolences to CAROL's family. Our own ANEELA ROSE was a close friend of CAROL's and here they are together.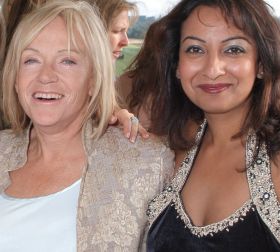 CAROL BARNES and ANEELA ROSE. C.r.: PAUL NOBLE..



Sincere condolences to ANEELA too for the loss of her pal and do take a look at her own HG page for more reflections on CAROL.


On a happy note it was British screen legend SIR MICHAEL CAINE's 75th birthday last month and SKY featured a MICHAEL CAINE season with all his marvellous movies, including ALFIE, ZULU and THE ITALIAN JOB. The evergreen SIR MICHAEL looks much younger than his years as you can see in this pic with the beauteous KATE WINSLET.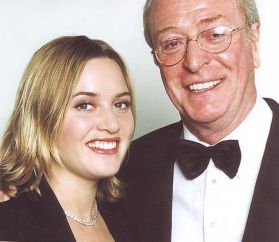 MICHAEL CAINE and KATE WINSLET. C.r.: ROWENA CHOWDREY.




There are so many amazing beauty products out this season that I hardly know where to start!

PRIORI have brought out 2 fab new products, Advanced AHA Gentle Facial Cleanser and Skin Renewal Cream which will make your skin nice and fresh for spring. Our trialler SUSIE said "I have been using these PRIORI products for about a month and my skin feels very clean and fresh now. The Facial Cleanser lathers up nicely and gives a really deep down cleanse. Then the Skin Renewal Cream makes it feel lovely and soft. I use both products twice a day and my spots have gone and my lines around my eyes appear finer already."
Stockists: 0845 555 2121 / www.cosmestore.co.uk


Spring in the UK is traditionally a time where one hopes to show off a bit more flesh - barring the curent snowstorms and blizzards! So you may like to deal with any lurking podge and / or cellulite now. 6 of my favourite guinea pigs trialled the current crop of 'body shaping' creams and here are reports on the 2 best ones:

The ever reliable CLARINS have brought out a Body Shaping Supplement 'with 7 Key Botanicals' which was trialled by KELLY. She said: "this is a concentrated product – you shake a few drops of it into your regular body lotion, mix it up and apply to problem areas. I used it twice a day on my thighs, bum, tum and upper arms and they really do look smoother and more sculpted after one month's use."
Stockists: department stores, larger BOOTS, etc.

10 YEARS YOUNGER's highly respected DR PATRICK BOWLER's VITAGE Body Refining Gel 'is packed with technologically advanced ingredients scientifically formulated and proven to reduce cellulite.' Jolly good but does it actually work? "Yes", said our trialler, LINDSAY, "I used it every day twice a day on my wobbly bits and my cellulite definitely looks a lot better already, especially on my bottom which was my most worrying area. I am going to keep it up now."
Stockists: 0845 555 2121 / www.cosmestore.co.uk


Smile, it's spring - well, almost! If your smile is not as dazzling as it could be, you must try PEARL DROPS' Instant White, a brush - on white tooth veneer which dries in seconds and really does make your teeth look whiter and brighter instantly. Just towel dry your teeth and paint on Instant White for the film star look.
Stockists: BOOTS and SUPERDRUG.
Take a look at the PEARL DROPS commercial babe, LIZ FULLER (our cover girl for December / January) who has a fab smile.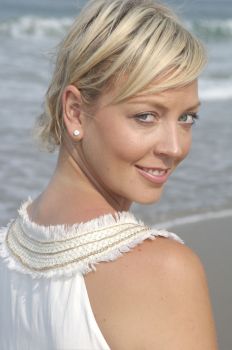 LIZ FULLER. C.r.: NIK HUDSON.



Lovely C5 presenter and former MISS UK, LIZ has recently committed herself to the GREAT WALK TO BEIIJING in aid of THE OLIVIA NEWTON - JOHN CANCER CENTRE in Australia. Fellow walkers will allegedly include OLIVIA herself, SIR CLIFF RICHARDS, JOAN RIVERS, DANNII MINOGUE, ANTON DU BEKE, JANE SEYMOUR, TOYAH WILCOX and GEMMA ATKINSON.
If you would like to sponsor our brave LIZ (and let's face it, most of us have been touched by cancer) please visit:
www.greatwalktobeijing.com


Talking of teeth, if you suffer from sensitivity in them, you will need to get to the root (excuse the pun!) of the problem. Forget products that just mask the pain temporarily - try SensiShield, a revolutionary new product which actually mimics nature to recalcify the dentine and tooth surface enamel. What a brill idea - why didn't someone think of it sooner? Our trialler, PENNY said "I have been using SensiShield for a month now and my teeth feel much better and look somehow brighter too. I can now eat ice cream and drink hot drinks without flinching which is great because my teeth were really sensitive before."


Once your teeth are looking lighter and brighter and feeling fab, treat yourself to a new lippy. CLARINS' latest Joli Rouge Long Wearing Moisturising Lipsticks are sensational. They really do last for ages and keep your lips completely hydrated. Most long lasting lipsticks are extremely drying but CLARINS seem to have cracked the problem with Joli Rouge by adding extra moisturiser. The stunning Joli Rouge colours we tried at the office were 701, a lively spring coral and 705, a soft pinky coffee shade.
Stockists: department stores, BOOTS, etc.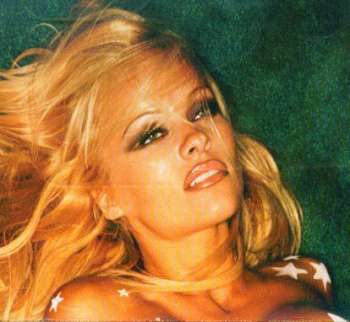 PAMELA ANDERSON. C.r.: STAR.



PAMELA ANDERSON was recently voted The Star with the Sexiest Mouth. Everybody likes the sexy, youthful look of a smooth, full mouth but what's the best way to achieve it without painful injections? I got our HG guinea pigs going again on the lip enhancing products and one really worked: DERMAQUEST's C - Lipoic Lip Enhancer.This product costs nearly £30 but is sooo well worth it. It contains a new ingredient composed of dehydrated Hyaluronic Acid which creates volume, redefines the lip line and fills in any little wrinkles above the mouth. You will feel a strong tingling sensation but it's not unpleasant and your mouth will definitely look more alluring - check it out.
Stockists: DERMAPURE - 01306 886 425 / www.dermapure.eu


If you are looking for a quick - fix, plumping lip gloss, forget the more expensive ones - NYC's cheap and cheerful Lippin Large will do the business. Lippin Large contains pure cinnamon and ginger extracts and will give your lips a mild tingling sensation and a gentle boost. The colours are fab, especially 475A / Pink Champagne.

On the nail front, NYC's Nail Glossies are long lasting and non - chip. Check out their fab new spring colours, Midnight Blue and Black Star which are as intense as the CHANEL colours but one sixth of the price.
NYC stockists: SUPERDRUG.


Thank you for all your emails about hypnotherapy. Yes, it does actually work and yes, I do speak from personal experience. There are several good therapists practising hypno nowadays and patients readily accept that 'alternative' is 'good'. One of the best hypnotherapists in Harley Street is DEIRDRE EDWARDS (1, Harley Street, W.1 / 07879 883 505 / www.deirdre-edwards.com)
I recently visited lovely DEIRDRE myself for insomnia and am happy to report that I am now sleeping like a baby and having delightful dreams (although I am not sure if the dreams are down to DEIRDRE or my own fertile imagination!) DEIRDRE is a wonderfully calm and reassuring person with a soft, melodic voice and she has also produced a comprehensive anti - stress and confidence - building voice tape to take home with you. With 20 years' experience, DEIRDRE can help you with all sorts of problems, including insomnia, stress, lack of confidence, drinking, smoking and dieting. Highly recommended.


BOOK NEWS:

My fave celebrity paperback this month has got to be PIERS MORGAN's hilarious DON'T YOU KNOW WHO I AM? (EBURY PRESS / £7.99.) which was the SUNDAY TIMES Number One best seller in hardback. 'Fabulously indiscreet' (how does he get these people to say these things? What does he give them to drink?), it's an amazing read. PIERS is a really good writer and his fascinating diaries about his celeb pals and interviewees and his life in the mad, bad world of superstardom - in the USA as well as over here - is absolutely riveting. I literally cried with laughter at some of his stories - especially the bit where he asks PARIS HILTON what she thinks of TONY BLAIR ("erm, I don't think I know him.")
My pic shows the naughty but charming PIERS with someone who looms very large in DON'T YOU KNOW WHO IAM?, His Gorgeousness, DAVID HASSELHOFF, one of the other judges on SIMON COWELL's Number One U.S. show, AMERICA'S GOT TALENT (it has! it has!) THE MORG (not UE!) seems to be having an ongoing love / hate relationship with THE HOFF in the book and THE HOFF is himself a fascinating star who has appeared regularly in this column.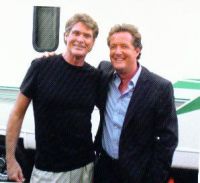 PIERS MORGAN and DAVID HASELHOFF. C.r: EBURY PRESS.




The most interesting, comprehensive and informative health book currently on the market is SMART HEALTH CHOICES: Making Sense of Health Advice by PROFESSOR LES IRWIG, JUDY IRWIG, DR LYNDAL TREVENA and MELISSA SWEET (HAMMERSMITH PRESS). The content of the book is explained in the title and this is an invaluable tome to have around because it really cuts through the c..p and mystique of the whole medical 'business'- drugs companies and all. Our health is the most important thing in our lives and you cannot always buy it - although money can sometimes help. SMART HEALTH CHOICES helps people to make the right choices regarding their and their loved ones' healthcare. The book covers everything you need to know, from nutrition to choosing doctors and practitioners, from placebos to trying new treatments. The 4 writers seem to have jointly covered every medical and health eventuality and the cartoons by RON TANDBERG give much needed relief from the serious medical stuff, some of which is quite scary.
A necessary book.


And if you want to save yourself a whole lot of time, trouble, travel and money, you must get MANICURE AND PEDICURE: The Complete Guide to Professional Results by ROSIE WATSON ((NEW HOLLAND PROFESSIONAL / £ 19.99). This is a beautifully presented and illustrated , glossy hardback with full colour pix by a beauty pro who really knows her stuff. MS WATSON covers everything you need to know about your extremities and how to make them healthy and beautiful, from reflexology to Botox for the feet, from waxing to nail extensions. Whether you want to become a beauty pro or just give yourself the perfect French (manicure - what did you think I meant?!), this book covers it all. It makes a fab present and, to my knowledge, is the first of its kind.
A really useful book for the laydeez!


Finally I was delighted to show CHARLES SVINGHOLM's Spring / Summer collection for him this season. Designer to the stars (MADONNA, SIENNA MILLER, CHELSY DAVY, COLEEN MCCLOUGHLIN, NANCY DELL'OLIO, etc), CHARLIE (07909 518 338 / www.charlessvingholm.com) is known for his floaty, feminine frox but his latest collection also includes some fab tailored day wear with a strong CHANEL influence and great necklace / belt pieces. Heeeeeeeeeeeeeere's CHARLIE with show host LIZ FULLER, EASTENDERS' star BOBBY DAVRO and myself at the show.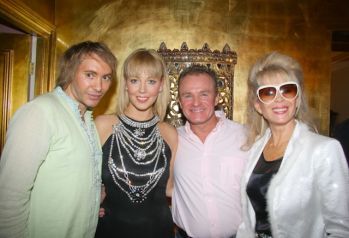 CHARLES SVINGHOLM, LIZ FULLER, BOBBY DAVRO and SALLY. C.r.: GABOR SCOTT.




Thank you for reading my page. Please write to me at:
Sally@hotgossip.co.uk
And do check out my personal website at:
www.sallyfarmiloe.com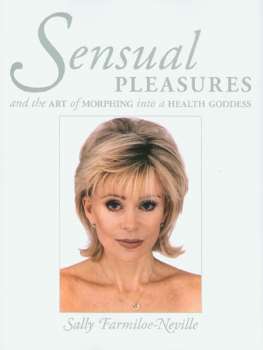 SENSUAL PLEASURES AND THE ART OF MORPHING INTO A HEALTH GODDESS (£16.99) is available from the following outlets:

Delancey Press - orders@centralbooks.com or 0845 4589911
ISBN: 0780953911998

LOO TIME VIDEO available from:

farminghamprods@aol.com and:

http://www.121music.com/pages/video_01/home.html