Picture Captions: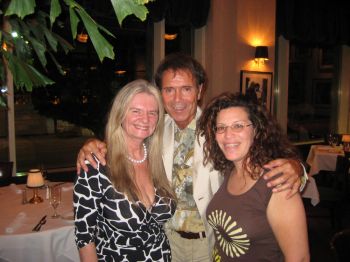 1. Eat Your Heart Out. Well, Cliff Richard certainly isn't eating his heart out. He looks incredibly fit and healthy, slim and youthful. I noticed he had a calming aura and feeling about him. On a night out with my attorney Inger Garcia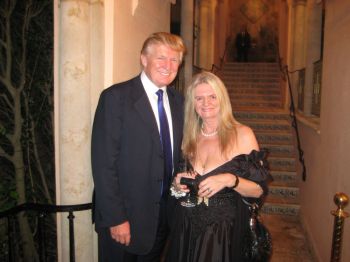 2. I Caught Donald Trump with a Smile! I experienced the sometimes illusive unique charm that has made him a multi-millionaire.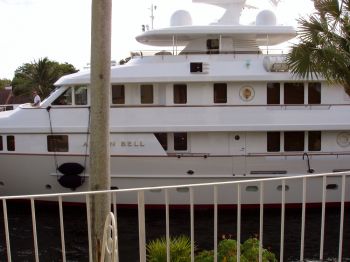 3. The Mega-yacht. Not so many passing my balcony now the fuel is so high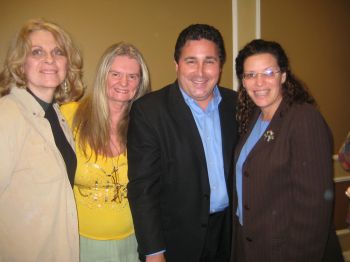 4. With my support Nancy from my building, my attorney Inger Garcia and State Representative Julio Robaina helping me with my fight for my condo apartment,


I was at the fabulous Donald Trumps Mar-a-Lago Club for the 10th anniversary of the "Unicorn" charity I support for children with autism and learning disabilities. Donald was the guest speaker and I was lucky enough to catch him just as he was having his official picture taken. He was gracious and very charming but when another lady asked for a photograph, he appeared to become a little impatient and it showed in his whole body language. He is a very busy man and doesn't like wasting time, just like on his US TV show "The Apprentice" but I experienced the unique charm that has made him a multi-millionaire. I have been told that I hypnotise people into being friendly and being a hypnotist, I can't deny it.


Sometimes Personal Tragedies can Make You Stronger?

This month has been very difficult with some serious personal challenges to face. I have used all the skills I teach other people to get through it all, and I needed to be very disciplined to keep focused. You really start to see identify what is important in life when you have a family tragedy. Just after I was getting over the shock of lovely Georgina's death my son was in a near fatal car accident and while I was fighting for our rights in America to keep our US home this bombshell landed right in the middle of my plight. It is quite strange how what previously seemed important just gets relegated to the background as you take stock of your life. You realize how willing you would be to give up everything in order to have your child live. Then there was the agony of waiting to see if he is going torecover and then the tables reversed I was so glad to have something else to occupy my mind and be kept busy whilst putting the worrying of my son to one side. This is what I teach my clients in traumatic times; it isn't easy but it can be done with determination. The good news is that we are through the worst of it with a positive prognosis and I can go back to my life. It is like having pain at the dentist - you remember it was painful but do not recall the pain itself.

"I didn't realise just how helpless you can feel when someone you love is in danger of losing their life and you're separated by 10's of thousands of miles. I would like to think that the deep healing skills that I have learned and shared with others went some way to helping Philip get on the road to recovery."

"I dread to think what I would have been like had I have resorted to the usual
pattern that people resort to at times like these - fast food due to lack of energy and endless cups of coffee or other stimulants just to keep you going as you wait for news."


Are you worried about your Future? Don't be!

With the economy really hurting people financially and people feeling genuinely scared about the future, I thought I would share soemthing with you. I was watching a TV interview with a very resourceful young man called Adan Shephard. He decided to leave home with only a sleeping bag, the clothes on his back and $25. Here is his premise:

"Via train, I will be dropped at a random place somewhere in the southeasternUnited States that is not in my home state of North Carolina. I have 365 days to become free of the realities of homelessness and become a "regular" member of society. To be considered successful, I have to possess an operable automobile, live in a furnished apartment (alone or with a roommate), have $2500 in cash, and, most importantly, I have to be in a position in which I can continue to improve my circumstances by either going to school or starting my own business."

He could not use his education and he would act as if he had no past. Just a story of having a family that had drug problems that he had managed to escaped. He would not use any of his contacts, friends or relations to help and would just simply disappear for a year.

He had no particular skills but was good at looking after his money. He was successful and wrote about it in his book Scratch Beginnings. I think it is worth looking at his websitewww.scratchbeginnings.com. He says he was tired of hearing people complain and saying "I don't have" rather than "Let's see what I can do with what I do have." So, he decided to demonstrate that it doesn't have to be that way. If you are suffering a financial downfall or you know someone who is it may be a good way to help by mentioning this young man's experiences. He gives simple but good advice in the book on how to look after your money and make it grow.


From 'Don't' haves to 'Do' haves

I certainly saw the "Do have's" this month atPalm Beach. The"Unicorn" charity 10thanniversary celebration was a grand event. None of the "I want's" were there as it was too expensive at $600 a ticket but I witnessed a whole host of "I want mores"! As I mentioned above, Donald Trump was the guest speaker, making it an auspicious occasion.

It was fun and exciting with terrific food. Having a Moroccan theme meant there were live Camels by the swimming pool. Another ball in Miamihad a live elephant and the affluent guests followed it down the famousCollins Avenue to their second venue.


And even I developed a PESTERSIDE pouch!

But back to reality. I returned from Europetwo months ago and it has taken all this time to rid myself of the dreaded pesticide pouch I gained on my travels, having found it frustratingly difficult to eat organically. It took only two weeks to appear but this uncomfortable pouch of an extra 5lb has taken a couple of months to get rid of. I did not vary the amount of food I ate nor my exercise regime. I merely ate organic 80% of the time (I have to eat out at functions) and waited. I am back to top health now and continuing to do what I can to educate people and help save the lives of my friends by encouraging them to eat healthily.

My attorney is eating an almost totally organic diet and she's reaping the rewards with her extremely acute mind becoming even sharper, which is great for the clients! She has even had hypnosis with me to de-stress an prove focus. She said she is now having a sound night sleep and she finds her abilities are sharper in the morning. It doesn't matter how brilliant you are if you have sleeping problems you mind is clouded the next day.


It is called a dirty little secret

E. coli and certain other food poisoning illnesses can sometimes trigger more serious health problems months or even years afterwards.

Scientists are only now discovering the future effects which are very disturbing. High blood pressure, kidney damage and even full kidney failure striking 10 to 20 years later in people who survived severe E. coli infection as children. Arthritis after a bout of Salmonella or Shigella, and a mysterious paralysis that can attack people who just had mild symptoms of Campylobacter.

"Folks often assume once you're over the acute illness, that's it, you're back to normal and that's the end of it," said Dr. Robert Tauxe of the Centers for Disease Control and Prevention.

However, these belated effects are believed to make up a very small fraction of the nation's 76 million annual food poisonings, although no one knows just how many people are at risk. With the somewhat regular recall of food these days being featured in the media, including more than 30 million pounds of ground beef pulled off the market last year alone, these facts are alarming some scientists.

My advice is to eat 'real' food (organic) at least 80% of the time. The 20% allows you to eat out, as many of you will have to do in order to have a social life. Try to avoid chemicals and pesticide-treated food and create an environment in which you are fit. Taking the extra time to establish exactly what you're eating and avoiding potentially harmful food will help maintain good health now and guarantee you a better future.


Useful tips

Now that people are not drinking so much milk many vegetarian women may struggle to get enough calcium which can be very important as they grow older and can result in osteoporosis. A natural and easy way to add calcium is to include Dill to your weekly menu.

Dill weed contains the carminative agent, carvone, which has a calming effect and aids with digestion. It is rich in many vitamins such as vitamin C. One tablespoonful of dill seed contains as much calcium as 1/3 cup of milk. For indigestion try infusing 13gm of bruised seeds in a cup of boiling water. Strain and take one tablespoon.

A delicious addition to your salads is Basil as it is full of taste. Basil is derived from the Greekbasileus, meaning "king," although to the ancient Greeks and Romans the herb was a symbol of malice and lunacy. They believed that to successfully grow Basil, one had to yell and curse angrily while sowing the seeds. So if you are unhappy about the world, global warming or the economy just rant and rave for a while when you grow your Basil.

Thank you for reading my page. You can e-mail me at: valerieaustinhyp@aol.com




Eds Note: VALERIE AUSTIN is an author of six successful self-help books including SELF HYPNOSIS (Thorsons), journalist and trainer with an international reputation in the field of hypnosis. Her best-selling books and training help people achieve their full potential. She founded the Austin Corporate Stress Management Company focusing on reducing stress and anxiety amongst executives and CEO's. She is also founder of UKRAH (1992) The UK Register of Advanced Hypnotherapy. Valerie has also worked as a consultant in hypnosis at the Priory Hospital, the UK's equivalent to The Betty Ford Clinic, which specialises in food addiction and alcohol abuse. Her work in the film industry (Hollywood) interviewing movers and shakers, producing TV news segments and publishing celebrity magazines in London gave her invaluable experience for her current Harley Street practice.