Dear Readers,

I don't know about you but I can't believe how the year is flying by – we're already in April! I spent most of March booking events for Dinner Dates up until Christmas and I feel I'm almost in 2009!

As you can imagine, after 20 years in the business of running social events and holidays for single people, I've observed all manner of social interaction and behaviour. Mostly good natured banter, lively conversation and laughter but also irritation with late arrivals, bores who send fellow guests to sleep, anger at no-shows on the tables and the downright outrageous which takes even me aback!

What on earth is she prattling on about, you're probably asking yourselves? Well I'm leading you into what I hope will be useful tips about how to prepare and conduct yourself at dinner parties! I hope you'll enjoy them. Remember, if you have any problems you think I could advise you on please feel free to send your questions to hillie@enterprise.net for my Ask Hillie section.

Happy reading,
Best wishes

Hillie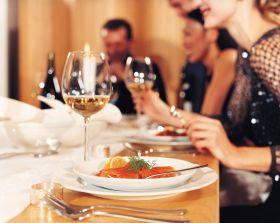 Tips on Preparing Yourself for a Dinner Party

1. Prepare your Mind
Good conversation topics – Keep yourself busy prior to the event, go out and do interesting things so that you have plenty of experiences to talk about. Watch, listen and read about current affairs in the media which will again give you topical subjects to discuss.

Keep Calm - Allow yourself enough time to get ready so that you are not rushed, flustered and in a panic at the last moment.

2. Prepare your Body
Face - Make sure you have a few early nights so your eyes are as sparkling as your personality.

Hair - Make sure you have clean, shiny hair that looks touchable.

Body – Take some exercise - if you feel fit and toned, you will probably feel more confident and attractive too.

Smell - sweet smelling breath is a must, so onions, garlic and beer are best avoided prior to the event! Also avoid wearing overpowering aftershaves or perfumes.

3. Dress
Wear whatever makes you feel most confident, comfortable and attractive and is appropriate for the occasion. As a general rule it is safer to err on the more casual side as overdressing could make you feel out of place and awkward.

Most importantly wear a smile and remember that if you think you look good so will other people.

4. Expectations
Arrive with an open mind, prepared to enjoy a social occasion with other single people in a relaxed and convivial atmosphere. Expect to make some new friends and maybe arrange to see them again. Dinner Dates is about social networking - we do not guarantee to introduce you to your perfect person, although of course many people have, but we can help you widen your social circle. We believe the more people you meet, the more chance you have of meeting someone just right for you.

5. Dinner Party Tips
Be yourself - Pretences won't last and no-one appreciates a phony.
Think happy - People want to meet someone who is relaxed, friendly & uncomplicated
Be positive – everyone has their own problems.
Avoid speaking about past relationships
Avoid asking too personal questions (where they live or what they do) Ask open questions about sports, restaurants - find a common ground
Be a good listener – But don't neglect to contribute to the conversation yourself. Silence is not golden.
Keep a sense of humour - Everyone likes to laugh; it helps break down barriers and relaxes people.
Try not to give your all - leave your audience wanting more at a later date.


ASK HILLIE

Dear Hillie
I'm 26, attractive and I'm getting desperate! I just can't find myself a boyfriend and I'm scared I will never meet someone special. I go to pubs and clubs with my friends and we often meet up with groups of guys there and have fun for the evening but I never meet anyone for me. There's no-one at work that I fancy and it's the same story when I go to friends' parties. I'm getting really depressed. What should I be doing?

Hillie says:
Often desperate people tend to frighten off the very people they want to attract. Most people want to meet someone who is relaxed and happy with their lot in life, someone who is not looking for others to provide their enjoyment in life. So try to adopt a more happy go lucky approach to life and widen your circle of friends. Instead of just frequenting pubs and clubs where people are usually just out for a good time, place yourself in environments where you are more likely to meet your type of person and where chances are that you'll be at your most friendly and relaxed. For example if you are sporty join a health club; societies such as an amateur dramatics society can be great fun and a good way to make new friends and share a common interest, special interest groups, evening classes, the list is endless. Dating is a numbers game, the more people you meet the more likely you are to meet someone special for you. Even if you make new girlfriends, most of them will probably have male friends they don't fancy but you might. Start today! Meet people with similar interests to yours and watch your social life take off!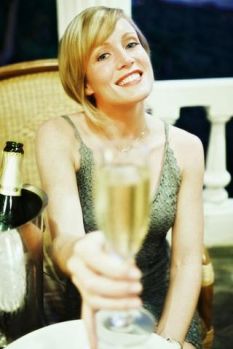 Dear Hillie
I am embarrassed by my problem but it seems to help just by writing it down. The problem is that I can't help going bright red when people talk to me. I am not really an insecure person (at least I don't think I am), but even when my closest friends chat to me I go crimson. Is this something I can overcome? I have tried facing up to it but it didn't work. Are there any alternatives? I would really appreciate an answer.

Hillie says:
Try to stop thinking of your blushing as a problem. Most people find blushing in others to be endearing and charming and the vulnerability it portrays brings out protective feelings in them. So try instead to think of it as an asset. Once you take the pressure off yourself and stop worrying about changing colour, you'll probably never blush again.


Dear Hillie
I have to keep to tight schedules because of my job and therefore when I make arrangements to meet my girlfriend for a date I always make an effort to be there on time. However she's always late and she can't understand why this makes me so upset and angry with her. I feel her total disregard for punctuality shows a lack of respect for me and she never has a good reason for being late. Surely if she really cared for me she would want to keep me happy?

Hillie says:
Your girlfriend obviously has a completely different attitude to yours on punctuality and is probably late for everything in her life. She may think that if you really cared for her you would be more understanding towards her instead of giving her such a hard time when she's late. If punctuality is the only cause of dispute in your relationship and you still want to date her, try making your meeting times an hour earlier than you intend to turn up. Hopefully you will both arrive at the same time and life will be less stressful and happier for you both!


Dear Hillie
I'm very attractive, in my thirties and I want to find someone to settle down with – my ideal would be Johnny Depp. However no man has ever matched up to my ideal and I would rather be on my own than spend time with a less attractive man. My friends tell me I'm too demanding and that I should be more interested in personality than looks, but why should I accept second best? What's your advice?

Hillie says:
Although you say you want to settle down with a partner, I wonder if you are in fact afraid of having a serious relationship. You could be someone who is committed to non-commitment – someone who sets their sights and standards so high that they can never be attained. The perfect person does not exist and seeking one can immobilise you and keep you on the side-lines of life. Give yourself a chance for happiness and fulfillment and tackle your fears. Throw away those mental check lists and be more open minded. Beauty comes from within. Someone with a warm personality with whom hyou feel comfortable will be far more rewarding than any film star looks.


Dear Hillie
I have known a woman as a friend for the past seven years, and I would consider her to be my best friend. She has had a constant stream of boyfriends during this time, and I have had many girlfriends too. Recently she has become single again and my feelings have become so strong for her that I desperately want to tell her how I feel. She constantly refers to me as her 'best friend' and tells me how wonderful our friendship is. If I make a move, I feel I will risk ruining the wonderful friendship we have formed over the years. Do you think I should stay silent and lonely?

Hillie says:
I personally believe that the best foundation anyone could ever have for a relationship comes from being best friends. Start asking her out on dates, and without making any amorous advances towards her, gently move your friendship onto a different footing. Then maybe one night over dinner (in a romantic setting), tell her how much you value the friendship between you and that you now find you have even deeper feelings for her. Ask how she feels towards you. If she says she just values you as a friend, accept her answer and assure her that you won't mention the subject again. However if she intimates that she feels more for you too, then you both have a good chance of a very rosy future ahead!



Hillie Marshall
Hillie began her working career as a radiographer and then started in show business as a singer and actress, eventually being theatre producer for her company Edwardians Unlimited. Following her divorce in 1989 and with two young children to bring up, she founded Dinner Dates, the social events and holiday Company for single people. Today Dinner Dates is the UK's longest established company of its kind with over 17,000 members nationwide. The phenomenal success of Dinner Dates for singles gave Hillie the idea of a social events company for couples, so in 2007, she set up Dinner With Friends, the UK's first couples only dining club. In July 2011 she sold both companies.

Not only is Hillie a successful business entrepreneur, her experience with people has been put to good use and, as both an Agony Aunt through the internet and in magazines, she offers advice and a sympathetic ear to thousands, making sense of personal and relationship problems.

Hillie is an accomplished author and has written three successful books on relationships. She has given relationship advice on numerous TV and Radio shows such as GMTV, Richard and Judy, The Big Breakfast, Esther Rantzen, Kilroy, The Vanessa Show, The Time The Place, Carlton's After 5 and was 'Dr Date' for LBC.

She has two children Nicola (32) and Jamie (29) and lives in Chiswick with her husband Angus.

You can e-mail Hillie at: hillie@enterprise.net
Her books: 'The Good Dating Guide', 'Hillie Marshall's Guide to Successful Relationships' and 'Agonise with Hillie' can be bought on line at: www.hillie.com

Words copyright: Hillie Marshall 2013