Due to book promotion and skiing holidays I sadly missed LONDON FASHION WEEK and the BAFTA FILM AWARDS this year. However my trusty fashion hound colleague DAMIAN DARKO was on both scenes and here's his report on best fashion for guys and thespian party news:

Report: FASHION AND PARTY NEWS with DAMIAN DARKO.

DAMIAN DARKO's report: "I managed to sneak into the Fabio Di Nicola show with my gal pal Rissy Mitchell, aka The Queen of Extreme. This is men's clothing with a conscience which has a mix-and-match style with everything from double breasted black-suit jacket and funky trouser combos to laid-back blue and grey jumpers with three-quarter length shorts and a bizarre but clever t-shirt tribute to 80s Bananarama has beens at the end! This show was surprisingly good which made up for the hour and half of twiddling my thumbs and listening to Jason Gardiner wannabes discuss fashion tips. Aimed at man chic, glamorous playboys who want to be seen, you can't go wrong with Fabio's classy designs. Visit www.fdn.it or call 020 7091 9060. We may have missed out on a BAFTA but that didn't stop Rissy and I getting up-close and personal with the stars at the Elle Style Awards party. Rachel Weisz may have been chuffed that she picked up the award for most stylish and inspirational actress but she soon made a beeline for the exit when her security made a quick sweep of the bash at 147, Brick Lane, which we thought quite rude. Obviously the party wasn't star studded enough for her which we found surprising since the likes of Bond boy, Daniel Craig, Natasha Bedingfield and sexpot Rachel Stevens made an appearance. While I committed murder on the dance floor by chatting with Sophie Ellis Bextor, Rissy was left on boy-toy duty chirping away to Lady Matthew Williams and the only gay in the village Will Young who had a whale of a time. I wonder if it's because they were swapping beauty tips?
Thanks to Zone Models for drowning us with champagne, Richard Brecker and Upfront TV for pumping us full of canapés and Tim Badham (Innerplace) for choosing age over beauty and taking Rissy to the best ball in town!"

I was back in time to check out the OSCARS on the teevee. It's not the same without "WOSSY" reporting for us although JAMIE THEAKSTON is quaite a naice boy! This year HOLLYWOOD glamour took over on the red carpet, at both the BAFTAS and the OSCARS with REECE WITHERSPOON, SELMA HAYEK, CHARLIZE THERON, KEIRA KNIGHTLEY and JENNIFER LOPEZ all sporting big, important frox. But my favourite dress was BAFTA's Best Supporting Actress THANDIE NEWTON's VALENTINO gown and here she is looking as sweet and delicious as a choccie on the March cover of ACADEMY.


THANDIE NEWTON. C.r.: MJ Kim.



Still talking fashion, shearling coats are perfect for most of the year in the horrid UK climate and the best in the country are by VANESSA LANDER. I recently attended a showing of VANESSA's divine coats, jackets and waistcoats, organised by her charming PR lady CHARLY SPRY and hosted by dynamic beauty guru SONIA BYRNE, at REDCHAT, a fab hair and beauty "saloon" in Chiswick (020 8994 3022) which is patronised by STEPHANIE BEACHAM, KATE BECKINSALE and MICHELLE RYAN, no less.
VANESSA's designs were a huge success with the West London glitterati and she told me that she has also branched out into menswear, calling her gents' range "SEBCOETS" after her first male customer LORD (SEB) COE. Contact VANESSA at 020 8747 8384 or v2b@btinternet.com to check out her fab collection. Here are the voluptuous VANESSA and myself sporting divine palomino and red shearling coats from her current collection at REDCHAT.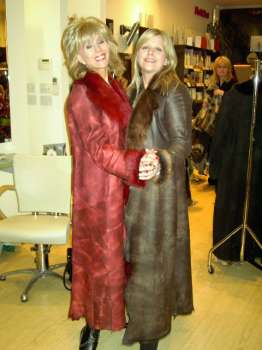 REDCAT: VANESSA LANDER and SALLY wearing VANESSA LANDER coats. C.r.: Charlotte Ellis.



Hopefully we will eventually see some sun later this year. Shorts are in for spring/summer 06 so look to your legs, ladies: God forbid some cellulite should peep through! You can nip it in the bud with LANCOME's amazing new SLIM SUCCESS Anti-Cellulite Attack Serum. LANCOME, a brilliant company with years of experience, call the new treatment lotion "cellular liposuction" and promise the fastest results of any anti-cellulite cream so far. It certainly worked well on our guinea pig, DEBRA who reported smoother, less pitted skin in just one week. Miracles never cease! DEBRA also said the lotion smells fab and is beautifully packaged, as one would expect from LANCOME. Apparently the results are long lasting with SLIM SUCCESS but my personal advice to you, dear readers, is to use it (or any anti-cellulite cream that works) regularly as it is always easier to prevent than cure.

Once you have got rid of your cellulite you will need to work on the old fake tan. My fave tanning products at present are VITA LIBERATA's Silken Self Tanning Gel and Silken Facial Self Tan which are really cheap and easy to use. Ring 0289 334 4411for stockists or go to www.vitaliberata.com

Btw VITA LIBERATA have just brought out an absolutely superb new eyeshadow range called Colour Addict Pure Pigment Eye Pots which are self explanatory. The colours are truly, madly, deeply scrumptious and you will fall in love with them, especially Neptune , Hockney Blue and Damson. These shadows glide on like silk and stay put all day (and, doubtless, all night!) Eye catching (excuse the pun) and intense, the VL Colour Addict range is guaranteed to add some sparkle to your gaze and bring out the colour in your eyes. Treat yourself to several different colours for spring (details above.)

Another excellent new make-up product, recently launched, is BARE ESCENTUAL's fab Lips To Go Go, small but perfectly formed lippy pencils which you can use for both outlining and filling in your lips. Their texture is smooth and creamy and they taste nice too! The vibrant and up to the minute colours are Apricot, Cinnamon, Cognac, Fig, Rose and Spice and the box of 6 costs under £30. My trusty assistant AMANDA, who has dark colouring and I (much paler) both found that all 6 colours suited us: interesting.
For stockists ring 0870 850 6655 Btw the LipsTo Go Go lippy pencils are also perfect for just outlining your lips without filling in, a la PAMELA ANDERSON (I suggest Cinnamon if you want to look exactly like PAMMY!)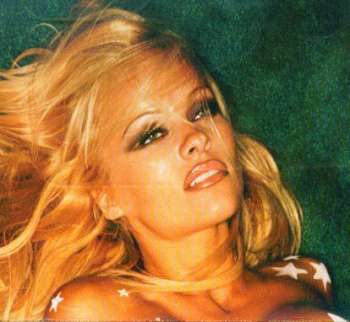 PAMELA ANDERSON



DR DENESE is always up there with the best on the anti-ageing front and their latest product Instant Wrinkle Press is no exception. This is a daytime-wear product specifically designed for that tricky round -the- eye area where naughty crow's feet can mar your looks. It's also a dual purpose product which you can either apply under your moisturiser and make-up or over it. The product works by "freezing" or relaxing the muscles for a nice smooth look. What's more it minimises dark circles under the eyes and its natural plant extracts and amino acid peptides provide additional anti-ageing benefits. Our mature guinea pig DAPHNE is thrilled with her Instant Wrinkle Press. She says "I apply it over my make-up several times a day; it feels nice and cool and definitely makes the skin around my eyes look much smoother. An excellent product."
I have also introduced DAPHNE to my fave DR DENESE product, the Home Microdermabrasion Kit which is ideal for smoothing face, neck, hands, decollete and rough skin areas; I am convinced she will become totally hooked on it, as I am. Watch this space!

Don't forget your teeth when you think about beautifying your face. A gleaming white smile will make you look and feel a million dollars, very HOLLYWOOD! I am delighted to welcome eminent cosmetic dentist, DR BOB KHANNA who has kindly agreed to be a consultant to this column. Harley Street specialist DR BOB is the flavour of the month on the cosmetic dentistry front and can tell you anything you want to know about teeth bleaching, crowns, veneers, implants, porcelain fillings, et al. DR BOB is always on the teevee and in the papers and can be contacted at 01344 891 230 or through his fab PR lady, CHARLOTTE ELLIS at:
020 7610 5370 An added bonus is that DR BOB is himself young and gorgeous and here he is, girls, looking debonair in a GIANNI VERSACE d.j.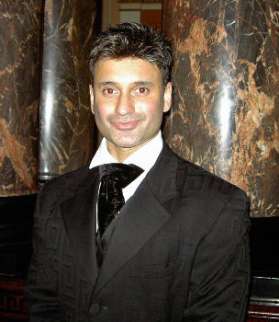 DR BOB KHANNA. C.r.: Charlotte Ellis.



On the music front (apologies to our lovely Music Ed MARK but I could not resist including these) 2 of this column's regulars have brought out new tracks. Firstly cuddly RUSSELL GRANT, astrologer par excellence and star of FAT CLUB, has launched himself onto the music scene with a lively Latino number aptly called THE RUSSELL HUSTLE. You can download THE RUSSELL HUSTLE at www.7digital.com/russell
Great fun!

Secondly if you're feeling more in a nostalgic frame of mind or want a nice presy for parents and grandparents, HGUK gal MAGGIE MOONE and her pal MO RIVERS have just released AS TIME GOES BY, a timeless party album with all the oldies but goldies on it, including wartime songs! Visit:
www.moonrivermusic.co.uk

Thank you for all your continued interest in my new book SENSUAL PLEASURES AND THE ART OF MORPHING INTO A HEALTH GODDESS (full details below) which I am busily promoting from Tatton to Timbuctoo! It went down wonderfully well at the LONDON BOOK FAIR last month (a review of the best book I found at the Fair will be in the next issue) thanks to the wonderful BORDERS and my equally wonderful publishers (also mentioned below) and now we are planning assaults on Paris, Monaco, Guernsey, Dubai and Rotterdam. Watch all these spaces!

Health and Beauty are totally apolitical subjects of course so I was happy to present copies of the book to both our First Lady CHERIE BLAIR and our First Lady In Waiting SAMANTHA CAMERON, who has recently had a baby (best congrats from all at HGUK to THE CAMERONS!) CHERIE asked me if the book would help her to get a toy boy! Oh dear, is TONE feeling the strain? Or was it because I was standing next to our very own Younger Man, cosmetic dentist extraordinaire DR BOB KHANNA at the time? YOU decide, dear readers.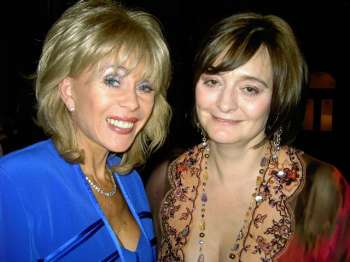 SALLY with CHERIE BLAIR. C.r.: Charlotte Ellis.



Thank you for reading my page. Please feel free to e-mail me (or DR BOB or my cosmetic surgery consultant MR BASSIM MATTI) at sally@hotgossip.co.uk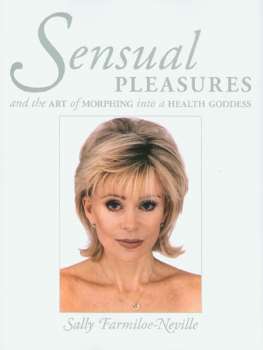 SENSUAL PLEASURES AND THE ART OF MORPHING INTO A HEALTH GODDESS (£16.99) is available from the following outlets:

Delancey Press - orders@centralbooks.com or 0845 4589911
ISBN: 0780953911998

LOO TIME VIDEO available from:

farminghamprods@aol.com and:

http://www.121music.com/pages/video_01/home.html