It's time once again for the most pointless and irrelevant award of them all. Its the 'CELEBRITY -dysfunctional- MUM OF THE YEAR AWARD'. Bearing in mind that such illuminaries as JADE -porker wonky tits- GOODY and ULRIKA JONSSON -three kids, three different Dads- have won the accolade before, guess who won it this year....no really guess......it was SHARON OSBOURNE!!!!!!!!!!! Yes millionaire Sharon wins the awards this year. She beat KATE MOSS!, JORDAN, and even CAMILLA Duchess of Cornwall. It just shows how sick and meaningless these awards are. The world obviously went mad ages ago and I'm going underground. Sharon's kids have been in rehab, been arrested, had drug problems, have weight problems and half the time she's never known where they are but because she's on telly she's a great mum!! The judging panel comprised of two chimps and a retired donkey. Quite obviously.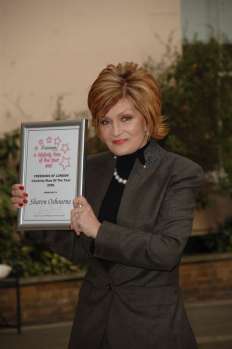 Sharon Osbourne



Time for another Sharon to rise from the dead. This one is SHARON -head- STONE. The Basic Instinct star who rose -from the grave?- to fame in that film by opening her legs and showing her minge, tries it again on the sequel 'Basic Instinct 2'. And you thought you had to have talent. The sequel is pretty lazy -directed by Michael Caton-Jones, co-starring David Morrisey - the plot is the same. They could've added a lot more. But hey, there's plenty of rough sex, lesbian sex -to keep you from walking out - though no good sexy sex. At the premiere Sharon gave us the Hollywood 'thang' with the sunglasses on in the dark with an elegant but conservative - dull for me- black dress. She was boooed by us for refusing to take her sunglasses off, - as we needed eyeline - and went off inside perplexed by our reaction. Her PR explained to her what was happening and she duly came back out and posed for pictures without the shades. Ahh. Needless to say, the chances of her working again are dismal so we needn't worry about the sunglasses thing again.


Sharon Stone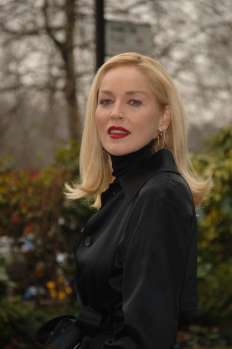 Sharon Stone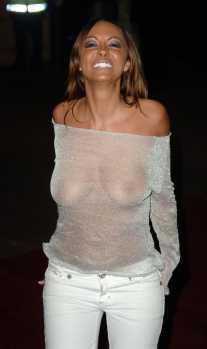 Jodie Marsh



The Empire Film Awards is one of the big film awards of the year but this year fell flat on its face. The guest list was abysmal, pure pants. Normally we have 'A' listers but this year -gawd- we had TONY CURTIS -with a walking stick-, ROGER MOORE, MACKENZIE CROOK, JOHNNY VEGAS, HARRY POTTER CAST, SIMON PEGG, and more 'local' names. You get the picture! What do I do with this? Couldn't give these pics away, let alone sell them. To make matters worse TONY CURTIS proceeded to dance with his cowboy hat on his walking stick and the whole thing was just a pathetic circus performance. I shouted out "You're gonna have to do a lot more than that to get in the papers" but he didn't get the joke and proceeded to out-do his previous performance! It was hilariously cruel. The press room was so small you couldn't swing a dwarf. -If you're a Guardian reader its: 'a vertically challenged person'.- The refreshments were on a tight budget as we only had a couple of sarnie trays -which disappeared in four minutes- water and orange juice. NO ALCOHOL! Nothing, no champers, not even Cava. Awards on an old shoe string. I left as soon as the sarnies went.

Another prem this month worth a brief mention is V For Vendetta. This subversive film directed by James McTeigue premiered at the Vue cinema in a very wet Leicester Square, London. The main reason we were all there was for NATALIE PORTMAN. Last time I photographed her was at the Cannes film festival last year, and in showbiz land that's an eternity ago. By the time Natalie arrived the rain had gone so I was able to take very good pics of her without even spilling my champagne which I think is a first. This film is a lot better than 'Basic Sh-tStinks 2'. The only boring bit about the gorgeous Natalie is that she was wearing very dark colours and for me its too safe and more difficult to sell. Celebs just don't get that we need bright sparkly 'big entrance' numbers for them to make the papers...oh well, maybe in Cannes again in May.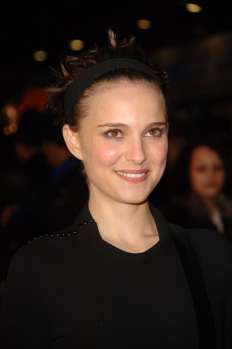 Natalie Portman



And lastly, you can't get the bimbo out of the blonde. As I found out on a recent photo call with Big Brother winner CHANTELLE HOUGHTON. When the shoot was over, the hapless blonde attempted to go inside the Greater London Authority building -where the shoot took place- and got stuck inside the revolving doors as she pushed them left despite the big arrows pointing right. Oh My God! Bless.

Over and out, see ya next month.

JOE ALVAREZ

joealvarez@verycool.co.uk

Words and all pictures copyright Joe Alvarez 2006.