Great news, beauty fans! The top make up houses have excelled themselves this spring, bringing out some of the most fantastic products I have ever had the honour of reviewing.


Have you ever wondered what is the best selling make up item of all time? I can tell you that it is YVES SAINT LAURENT's brill TOUCHE ECLAT, the make up in a brush which conceals your under eye shadows and other imperfections and gives your skin one touch instant radiance. Girls, this is one item of make up you must always carry with you and its elegant gold packaging looks the biz in even the chicest handbag. This skinny little wand saw me through my most hectic ever shoot on HOW TO MARRY A MILLIONAIRE in SOUTH MIAMI BEACH when I was clubbing all night but still looking fresh on camera after TOUCHE ECLATing my mauve under eye area in the mornings. The classic colour, No. 1, blends invisibly into most skins but there is also a No. 3 for dark or very tanned skin and, in Asia, a No.2. An absolute must for all skin types.


Now DIOR have brought out their own "radiance booster pen", SKINFLASH which is also wonderful for concealing under eye hollows and blemishes, evening out your lippy line and making your face glow. In fact DIOR's new Backstage Make Up is their best range yet, including their fab Diorshow mascara which gives you the best and most beautiful lashes, Airflash mist make up which sprays on perfectly in an instant, 5 Couleurs 5-colour eye shadow with bright spring shades to die for and Diorkiss luscious lip plumping gloss in the most yummy and fragrant flavours including Lychee Rose which also just happens to be a sensational dusky pink colour.

DIOR's Backstage Make Up sponsored last month's hit telly show, the wonderfully bitchy and entertaining Make Me A Supermodel and the show's host , the delectable RACHEL HUNTER certainly looked every bit as fresh as her teenage charges. But is she worth the 30 million quid her ex , sexy ROD STEWART is settling on her in order to divorce her and marry the also delectable PENNY LANCASTER? I imagine the superdosh will keep the supermodel in DIOR for the rest of her days!

Talking of supermodels how can we forget that DIOR were responsible for the OPIUM ad campaign with luscious SOPHIE DAHL which caused more car pile ups beside hoardings than ever before. Just to remind you............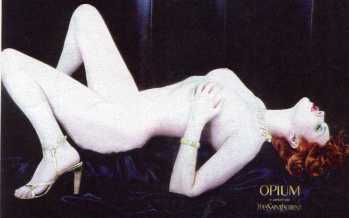 SOPHIE DAHL models OPIUM



Btw DIOR tell me that J'ADORE is their current best-selling fragrance; and you certainly cannot go wrong with this light, sweet and feminine scent which is perfect for frisky spring frolics!


LANCOME are always up there and their latest fake tanning and bronzing products are superb. The new LANCOME Flash Bronzer dry body oil spray tan mists on to give a perfect even tan in seconds and the new improved Flash Bronzer gel is perfect for the face, neck and decollete . The products also smell great, without the usual horrid chemical smell which spoils some fake tans. In fact the Flash Bronzer products actully evoke sun drenched tropical beaches beneath an azure sky (soon, fellow Brits, soon!) You can also buy Flash Bronzer handbag sized face petals now with just the right amount of fake tanning cream for one application. Now you can get a permanently sun kissed look super pronto without going near a single harmful ray of the real thing. One celeb who is allegedly a fan of LANCOME's Flash Bronzer is lovely CLAIRE SWEENEY and here she is looking suitably golden and glowing.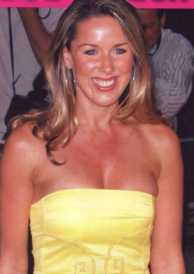 CLAIRE SWEENEY



And if you do not have time for a fake tanning session, get the bronzing make up out! LANCOME's Star Bronzer bronzing powder, bronzing fluid and nectar lip gloss will all give you the instant sun goddess look for spring/summer 05 so you can wear white and look truly divine, as if you really were "wafted here from Paradise"!


MAC have also brought out some excellent new products this season including their Tinted Lip Conditioner (SPF 15), Madame B lippies, Couple Up blushers and Doubles, 2 -colour sheer or shimmer blushers, all in dreamy colours which will knock your socks off. And MAC's Irridescent Powder in Golden Bronze will make you sparkle all over for a more sophisticated evening look.


Of course if you want to try all these fab products you will need a perfect canvas to work on. Spots are out of the question so get thee to BOOTS and stock up on SKIN DOCTOR's Zit Zapper which really will zap those zits in just 8 hours.
Wrinkles are also a no-no if you want your make up to glide on smoothly. The latest and greatest anti-ageing products on the (massive) skin care market are by American beauty guru DR DENESE. The whole DR DENESE range is excellent but try these 3 if you want to get rid of wrinkles in just 4-6 weeks: Line-Erase, a rich serum containing Argireline, a new miracle ingredient which really works. Just smooth the Line-Erase in to your crows'feet, frown lines, naso-labial lines, above the lips, etc twice a day before applying your moisturiser. Retinol Max Capsules (with retinol and ceramides) which you apply to all your dodgy areas, particularly the crows' feet and age spots.The Retinol in the capsules gives a light peel to the skin so treat it with respect and start off by only using it every 2 days until your skin has got used to it. You will soon have baby soft skin again!

Vitamin C Radiance Cream which you apply underneath your make up for a line erasing and light diffusing effect. This rich cream contains lots of different vit.s and also ceramides and nourishes your skin while making it look a million times better.

I have personally tried these DR DENESE products myself and my skin is looking radiant after just a month so I am well pleased. I use the Vitamin C Radiance Cream underneath my make up and it makes my skin feel like silk. Check out the DR DENESE website at: www.drdenese.co.uk where you can order the products or phone 0129572 45 83.


Even TESCO, best known for their delicious and economical foods, now have some excellent skin care and make up products, from the great BARBARA DALY. TESCO's Make-up lip smoother and their Make-up eye lift are packaged as slimline wands which you can pop into your handbag and use several times a day to keep your lips and under eye area in tip top condition at all times. They are nice and cheap and maybe you can sneak them into the family shop, ladies, without your hubby noticing!


Every now and then a new miracle treatment comes along which is a total boon for us women and literally saves our lives, or at least our looks. The latest of these "miracle beauty cures" is/are LIPOSTABIL injections, known colloquially as "THE FLAB JAB" because that is precisely what it is. The cosmetic doctor who uses this new procedure, DR PATRICK BOWLER, of THE COURT HOUSE CLINIC (30B, Wimpole Street, W1 / 0870 850 3456) injects the product, LIPOSTABIL into those annoying little fatty areas which do not respond to diet, exercise, massage or any other kind of treatment, for instance the chin, jowls, tum and knees. The brilliant DR BOWLER believes in the FLAB JAB so completely that he has treated his own wife, lovely PAULINE with LIPOSTABIL. PAULINE says: "after 2 caesarians I had an annoying bulge round my stomach which simply would not shift with conventional dieting or exercise. The LIPOSTABIL injections were not at all painful and have finally got rid of my tummy after just 4 sessions. I had some swelling and bruising for about a week at first but now I have lost about 4 inches round my stomach; the fat has just disappeared and the skin around it has tightened up. I can wear a bikini for the first time since I had my first child 22 years ago!"


Congratulations, PAULINE. The LIPOSTABIL injections are proving extremely popular so book up quickly. Celebs alleged to have had the treatment (although DR B is not saying) include GERI HALLIWELL,TOYAH WILCOX and NICOLE KIDMAN while DEMI MOORE is apparently desperate to try it on her knees. Watch this space...................... in the meantime here is the pulchritudinous DEMI with the offending kneecaps well swathed in denim:



DEMI MOORE



While you are beautifying yourself big time, do not forget your hands and feet and your nails, the extremities which can be an absolute give- away if you are not into over all grooming. I have just discovered OPI, whose nail products are ab fab. OPI's travel set of Kabuki Kuties, mini polishes in soft spring/summer colours along with a super thick nail file, toe separaters, cuticle oil and Avojuice skin moisturiser, all in a cute pink bag are a welcome addition to our overnight bags or make a great gift.

The spring/summer 05 colours for the OPI nail lacquers are sensational: try All Shook Up, a lively coral which goes with everything or, if you are feeling daring, It's Now Or Never, a light pearlised royal purple, just the job for supporting THE ROYAL WEDDING! If your nails are less than perfect use OPI's Nail Envy nail strengthener, a fast acting unisex product which also makes a good base coat.

All the celebs wear OPI, including ANGELINA JOLIE, REESE WITHERSPOON, SARAH MICHELLE GELLER, BARBRA STREISAND, MADONNA, CATHERINE Z-J,JENNIFER LOPEZ, BRITNEY, CHARLIZE THERON, PAMMY ANDERSON, LINDSEY LOHAN., et al...........check out their nails, girls.

For OPI stockists phone 01923 240010 or visit:
www.lenawhite.co.uk


Once you are looking perfect, ladies, you will need somewhere to lunch. My restaurant/bar of the month for April is the soopah trendy PORTOBELLO GOLD (95/97 Portobello Road, W11 / 020 7460 4910 or:
www.portobellogold.com

"THE GOLD" as it is fondly known is owned by one of NOTTING HILL's most delightful and colourful couples, MIKE AND LINDA BELL who are true bons viveurs and wine experts which is reflected in the delicious food and drink at the restaurant. THE GOLD serves food all day as well as booze and their Sunday brunches and cream teas are famous. It is known for its excellent fresh fish and seafood menu and I had the best ever moules marinieres there just last month. The conservatory style restaurant has recently been redecorated and looks the biz while still retaining its colonial style charm.

THE GOLD is also a small boutique hotel with comfortable and cosy rooms and they have a stunning roof garden which you can book for private barbies in the summer.Both the restaurant and the bar are always awash with celebs: everyone from BILL AND CHELSEA CLINTON to BRITT EKLAND has graced its portals and former staff include the amazing SEAL and gorgeous and talented actor of the moment DANIEL CRAIG.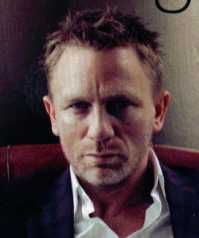 DANIEL CRAIG




The best celeb books I can recommend this month are MICHAEL WINNER's autobiography WINNER TAKES ALL, A Life Of Sorts (Robson Books, £16.99) and the new JOHN GRISHAM, THE BROKER (Century, £17.99).
MICHAEL WINNER is an amazing character: whatever he touches seems to turn to gold, whether it is directing blockbuster movies, with or without CHARLES BRONSON , making the restaurant world tremble with his sometimes scathing reviews or capturing the heart of the nation with his hilarious ESURE commercials ("calm down, dear, it's only a commercial!") MICHAEL's success with the ladies is phenomenal but it has not always been thus................ I won't reveal all in this review, you will have to read the book. We love The Silver Maned One here at HGIK and have often featured him, so here he is again, ladies and gents.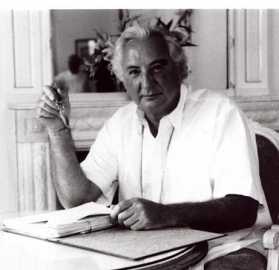 MICHAEL WINNER




I persuaded my husband JEREMY to read THE BROKER for me as
my regular male reader JUSTIN has ran off with our former Social Ed, REGINA (regular readers will remember her: she was very, very naughty and probably still is!) JEREMY has read every single GRISHAM since his first book, A TIME TO KILL and is a real GRISHAM fan. He loved the last 2 he read, THE KING OF TORTS and THE LAST JUROR but says THE BROKER is even better, the subject matter being the wily ways of the CIA. Sounds as if THE BROKER might make great film material, like THE CLIENT and THE FIRM. MICHAEL WINNER might even come out of filmic retirement to direct it; watch this space..............


Have you ever wanted to put on an event but not known exactly how to do it without spending a fortune on a professional event organiser (like our very own esteemed Ed In Chief and wearer of many hats, GEORGINA!) Now you can DIY with the help of CAROLYN SOUTAR's small but informative STAGING EVENTS, A Practical Guide (The Crowood Press, £9.99:
www.crowood.com


Don't be frightened by the stunning pic of JODIE KIDD on the back cover modelling a PHILLIP TREACY hat at an A-list fashion show: CAROLYN also covers small events and, crucially, outdoor ones which can be extremely tricky given the weather in this country. CAROLYN is a very experienced event organiser herself having worked as a producer for LONDON FASHION WEEK and as stage manager for THE ENGLISH NATIONAL OPERA and STAGING EVENTS is a really useful little handbook which also makes a helpful gift.


Finally I would like to salute 2 wonderful ladies from the world of fashion and beauty who sadly died recently:

JANET REGER, the grande dame of British lingerie whose slinky silk and satin underpinnings have been an inspiration to women (and men!) everywhere. I have been lucky enough to wear JANET REGER lingerie for a couple of long lasting jobs and always have a few of her gorg garments in my bottom drawer. JANET's divine shop at 2, Beauchamp Place in Knightsbridge will live on with her equally talented daughter ALYSSA and manager AVRIL at the helm. I would like to think that the amazing JANET is up there making the angels look a little less bland! She will always be a true fashion legend.

SUE WILKINSON, model, actress, singer and songwriter extraordinaire was my mentor when I first joined TOP MODELS as a young "module" in the seventies and she became a firm friend. I was deeply honoured to be one of the Heavenly Bodies on her hit record VICTIM OF THE PLANETS by BIG DIPPER AND THE HEAVENLY BODIES produced by the legendary STEVE ROWLAND in the 80s. Another of SUE's big hits was YOU'VE GOTTA BE A HUSTLER IF YOU WANNA GET ON and her little book of poems and lyrics REFLECTIONS OF A RECOVERING BIMBO (Xlibris Corporation: www.Xlibris.com is hilarious and spot on. SUE was getting more jobs than ever as a model and cover girl and had just bought herself a beautiful house from the proceeds of one of her American commercials when she was sadly struck down with cancer at a relatively young age THE ST JOHN'S HOSPICE looked after SUE at the end and her friend STUART organised a beautiful memorial service for her at HOME HOUSE last month when her British friends were able to pay their respects to a beautiful and talented lady who will be sorely missed.


Thank you for reading my page. Please check out my personal web site at:
www.sallyfarmiloe.co.uk

LOO TIME VIDEO available from:

farminghamprods@aol.com and:

http://www.121music.com/pages/video_01/home.html