Hi peeps, spring weather finally upon us and the last month has once again been frantic. One of the premieres I had the delight -not- to cover was Miss Congeniality 2. The film written and produced by Marc Lawrence is the sequel to er, Miss Congeniality. The premiere in Leicester Square, London was OK but there was a serious lack of decent celebs apart from SANDRA BULLOCK herself and her chum HUGH GRANT. We need more names invited to these premieres. I hate waiting for hours -sometimes- for the premieres to get going and then we just get a gagle of celebs turn up. A few minutes work for all that waiting. Of course the P.R.'s in charge of the events lie through their teeth and pretend a whole list of names as long as their previous lies are turning up. That way they kind of guarantee that their premieres/events have the maximum press coverage as we turn up, foolishly, just in case they are right. HUGH GRANT didn't even stop to pose for photos as he is a major p---k. He just whizzed in. What's the point? Why attend a major premiere and not have photos? HUGH, hurry up and retire. Sandra though, gave the fans and the press - well it was her film - plenty of time and she looked cool in her diamante studded Chanel coat. Though she wore jeans with it. Oh well. Micro review: Film was OK not that much different from the last one.


Sandra Bullock Copyright Joe Alvarez 2005



Iconic beauty CINDY CRAWFORD was in London recently endorsing a make of new low carb health products as they paid her lots of dosh to do so. -Not paid me anything hence no mention of them- At the press conference in Knightsbridge, 40 year old Ms CRAWFORD informed us how its important to not eat too much to stay fit. Oh yes, and to do lots of excercise as well. When asked about the kinds of food she eats to maintain her amazing shape the original supermodel told us: "Bit of everything" Aha! that's the trick. She eats chicken, pasta, salads, beef, has the odd chocolate binge and her favourite food in the world is CURRY! When in London our Cindy loves Indian/Bangladeshi nosh. Like moi. So, though promoting low carb health foods she does eat carb king pasta. She does have a personal trainer that sees to her three times a week. -Tee-hee- I have to say that she looks fantastic for a millionaire middle aged mother of two.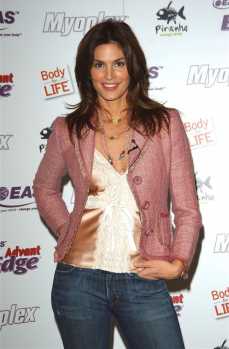 Cindy Crawford Copyright Joe Alvarez 2005



With that enlightning dietry information, DAVID BECKHAM the true fitness guru launched his football academy in east London. The DAVID BECKHAM FOOTBALL ACADEMY will open at the Dome. It will provide full footie training for loads of kids of mixed abilities who don't necesarily have to be good at football. David -trying his best to keep his sqweaky voice at bay- told us that it had always been his dream to start a football academy. He was never interested in becoming a manager after retirement. Amazingly, the first 10,000 places will be free, paid for by David himself. Lets hope Victoria doesn't have a say with the decorating of the place otherwise we will have the biggest Wendy house in the world.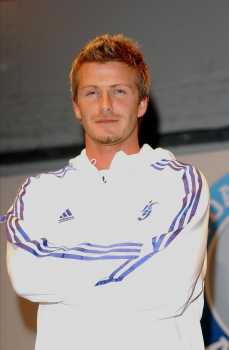 David Beckham Copyright Joe Alvarez 2005



And lastly, time once again for the CAPITAL FM RADIO awards at the Royal Lancaster Hotel London. These awards have always churned up a good celeb guest list. This year was no exception. Guests included RACHEL STEVENS, NATALIE IMBRUGLIA, AL MURRAY, SUGABABES, JAMELIA, FRANK SKINNER, BOB GELDOFF, SCISSOR SISTERS, GIRLS ALLOWED, CHRIS EVANS, GERI HALIWELL, KATY HILL, LEMAR, and the Queen celeb of the event MARIAH CAREY. The arrivals procession was as messy as ever with cars arriving all the time and getting in the way of the celebs thus very irritating at times and a hassle to get good pics in that make-shift car park. NATASHA BEDINGFIELD scooped Londoner's Best Newcomer award voted by the listeners of Capital Radio. JAMELIA won the Best Female singer over JOSS STONE -who should've won in my opinion- NATASHA BEDINGFIELD and BEVERLY KNIGHT. LEMAR won Best Male singer, JOSS STONE quite rightly won BEST ALBUM for 'MIND, BODY and SOUL' Uber brats KEANE won BEST UK Group -and BEST OXFAM Customers as they must buy ALL their clothes from there, or is it the Mind shop?- They are also the only band that agree to launch a new mid-range rock/pop festival to take place in Hyde Park in June -which they will headline- with a press conference and PHOTOCALL but then refuse to have their pictures taken!!!!!!!!! What a bunch of poofs. Clearly, this month's 'MORON (S) Of THE MONTH.
KEANE, reality check, you are not that big.
Over and out. See ya next month.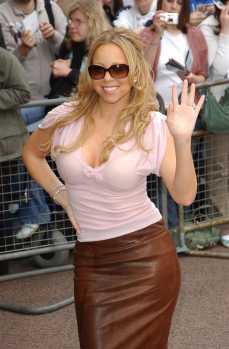 Mariah Carey Copyright Joe Alvarez 2005



JOE ALVAREZ
joealvarez@verycool.co.uk

Copyright Joe Alvarez 2005
All pics copyright Joe Alvarez