LETTER FROM THE EDITOR

'Tis the season to party……and what a great way to start the month than by attending the RSVP event showing at London's Olympia on 6th and 7th April. This is a super event for all our corporate readers…. You need never worry about organising that golf event, corporate party or celebration ever again. It's the only time you get to see all the exhibitors in the party and event industry showcasing their new and innovative ideas; from event organisers to chocolate fountains to caterers to stunt artists…they will all be there! And apparently there's no shortage of refreshments at RSVP, which aim to offer a wide choice of bars and cafés with a tempting variety of different foods and drink to choose from. There'll also be seminars with subjects including 'How to give your Event the Wow Factor' and don't we all want some of that! And also 'How to get guests to RSVP', and don't they so not do that! To find out more about this exciting event visit www.rsvpevent.co.uk I will be writing it up for next month's issue so stand by…..

Talking of parties, I gave a party for 200 guests in March (I could have done with RSVP organizers to add that extra glam touch) at London's latest trendy Italian venue, the fabulous INIGA restaurant and Bar in Chelsea, which we are all in love with. The event was filmed by a SKY TV crew who are doing a documentary on 'strong women' and wanted to film our fabulous deputy editor Sally Farmiloe-Neville as she mingled with guests and did the charity raffle. Another 'strong woman' who was in attendance was our Crime Editor Jacquieline Davis, who as a security expert had just finished filming a TV documentary in America. What a colourful evening! Sally looked great in a sexy little red designer frock by Mayfair couture designer Parveen , and celebrity millionaire socialite, Dave West stood out in his 'bright pink bespoke Saville Row suit' as he and his latest girlfriend (Dave is fast becoming another Peter Stringfellow) celebrated his 21st something hmmmm birthday! The party was so much fun and apart from London's wealthy '30 something handsome guys', such as Max de Karint who wore Edwardian style attire and Brook Hanson, there were so many bright young things attending including beauty queens and eccentric celebrity hatter Louis Mariette and his entourage. Prince Moshim Ali Khan, Maryse-Antionette Comtesse-de-Goutiere and hubby Marcus Hewett were other well known socialites on the glittering guest list. Apart from eating (all I had time for during a busy event) a fabulous desert WOW!!! I still haven't had a chance to dine properly at Iniga but I can confirm that all reports about the food, gorgeous trendy staff and first class ambiance are positive. And the design of the venue ….well see for yourself! I will bring you my review for the next issue…promise. Meanwhile don't wait for me….INIGA, 2a Pond Place, Chelsea, London SW3 Telephone 020 7589 6589.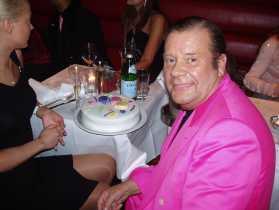 Dave West celebrating his birthday at Iniga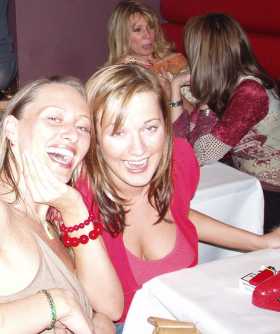 Bright Young Things



When you are not partying you might want to relax with some interesting DVDs from CARLOS SAURA, which are timeless, passionate adaptations of Carmen, Tango and Flamenco. This is a 3 disc DVD box set released by Metrodome Distribution on 25 April as part of their 2005 Ovation series. You won't be disappointed! These fabulous films have received awards and quite rightly so, they are a delight to watch and listen to…and you can't help feeling the urge to get up and dance the steps yourself…or is that just me…I admit I'm a fan of Carmen and I love the tango…and yes I'm not a great tango dancer but I'm also not afraid to have a go in public, especially if there's a dashing Latino wanting to partner me. But back to the DVDs…they are sooooooo romantic – passionate love stories - a must have, and you get all 3 for only £12.99 at all good record stores nationwide. Go on, treat yourself, why don't you!

Now I must dash …so I'll see you next month….when it will be summer.....

Georgina Bruni
Editor in Chief
georgina47@clara.co.uk


AND NOW A MESSAGE FROM EASTENDERS

EASTENDERS is a NO FRILLS Cash & Carry situated in easy reach of both the Channel Tunnel exit and the Ferry terminals, retailing wine, beer and spirits in the range of budget wines and spirits for everyday drinking thro' to those for the 'Price no Object' afficinado.

Created by Dave West who, in 1989 began his preparation to establish a commanding presence in what was to be a new market resulting from the enactment of the Single Market Treaty. His NO FRILLS approach, allied to the retail philosophy of STACK HIGH AND SELL IT CHEAP is central to the company's culture and has ensured that the store has achieved the objective set in 1989, that of a commanding presence.

Today's store is probably the largest independently owned retail outlet of its type in the world, offering wines, beers and spirits from all major countries, and as a result of the quality of the products allied to their retail price, it enjoys an enviable degree of customers.

In addition to the outlet in Calais, EastEnders also has a retail outlet on the Franco-Belgium border retailing tobacco products, same emphasis on keeping the cost down, and is in easy reach of Calais.

Tel. Direct: +33 321 34 81 87
Fax Direct: +33 321 34 81 70

visit our website: www.eastenders-calais.com