Who has allegedly two children by different fathers and is expecting another child from a third father? Who is wildly rumoured to have had flings with footballers in the Premiership? Who has allegedly had flings with work colleagues? Who has allegedly flogged kiss and tell stories?

It's this year's 'CELEBRITY MUM OF THE YEAR'! won by ULRIKA JONSSON!  I kid you not!

Who voted for this award? The public dear readers! Runner up was KERRY MCFADDEN, and wait for it...guess who came third? JADE GOODY!!!!!!!!!!!!!!!!!! Better known as the fatty loud mouthed girl from Big Brother. Ok, Jade is now a tad thinner, and is generally a good egg - specially when its fried in lard with a double helping of bangers- but second runner up to 'Celebrity Mum Of The Year? I think not. I pity the good mums out there who will never get this or any similar recognition for the hard and unselfish work they do. There you go mums at least you know what your goals in life should be to have a shred of a chance of being nominated for this frivolous sham.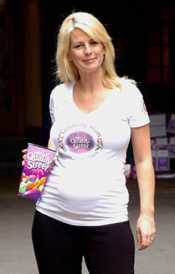 Ulrika Jonsson COPYRIGHT JOE ALVAREZ



From 'celebrity' mum to celebrity daughter. LEAH WOOD daughter of ageing Rolling Stones rocker RONNIE WOOD, launched her pop/rock career last December at the Half Moon pub in Putney. Photography was strictly forbidden at her gig, this ban was enforced by four bouncers who threw out two of my - compact camera clad - colleagues from The Daily Mail and Getty Images who dared to ignore the ban. They also made two tourists delete ALL the images in their camera phones. I managed to take a few pics anyway without being caught. What a buzz. These ended up in The Mirror, The Daily Star and The Daily Express. It was time to play spies again as her follow up gig supporting 80's band SPARKS took place at Ocean in Hackney last week. I managed to 'steal' a dozen or so pics with a little compact camera again as Ms WOOD's management always REFUSE access to photographers at her gigs!!!!!!!! How on earth can you have a pop career and not ever be photographed? I won't let that happen, rest assured. 

Of my monthly installments of film premiere's this month's top pic was STARSKY & HUTCH. The 70's TV series remake directed by TODD PHILLIPS kicked off at the Odeon Leicester Square, London. Though the premiere itself was devoid of any excitement, as our much needed diet of sexy and glamorous women was virtually non-existent. Ok, we had cheerleaders in rah-rah skirts which were entertaining for about half a minute. Though it was amusing to see them freezing in such attire with perma-grins. Stars of the film BEN 'isn't he tiny' STILLER and OWEN WILSON were in attendance as well as the original TV cast of PAUL MICHAEL GLASER and DAVID SOUL. I have to say that time has not been kind to DAVID SOUL. I was surprised to see him looking like a 90 year old compared to PAUL MICHAEL GLASER. Huge let down for us photographers was the no-show -booo!- of sexy CARMEN ELECTRA, AMY SMART and BRANDIE RODERICK who play three cheerleaders that help the detectives crack the case. Thus no front splash in the papers the next day. I must say the film itself was very good fun. Other attendees of the 70's themed premiere were SIMON PEGG and RALPH LITTLE -amongst other d celebs.-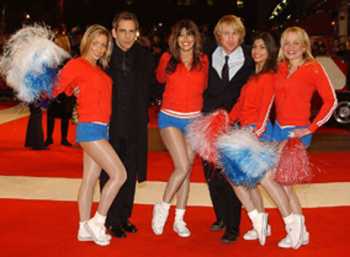 Ben Stiller & Owen Wilson with cheerleaders



The Mirror Pride OF Britain awards at the Hilton Park Lane was a huge contrast to the S&H premiere. The list of celebs who turned out was good, these included: DARIUS, BARBARA WINDSOR, DIANA ROSS, OZZY OSBOURNE, ALEX BEST, -it was really good to see her looking radiant. Having a break from her alleged regular beatings from GEORGE BEST has done her good- RACHEL STEVENS, MELINDA MESSENGER, DUCHESS of YORK, the GREG RUSEDSKI with wife LUCY, BRIAN and KERRY MCFADDEN, CLAIRE SWEENY, JASON DONOVAN -remember him?- et al. DIANA ROSS had a lucky escape as she tripped on the red carpet and nearly landed on her face. Or was she pissed? Good job she was not driving intoxicated, again...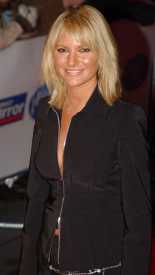 Alex Best COPYRIGHT JOE ALVAREZ



Biggest theatre bash this month was at the Shaftesbury theatre in London WC2. The reason for this dear readers? It was AMANDA HOLDEN's return to THOROUGHLY MODERN MILLIE after er, a week or so off due to a kidney infection.....There was a the customary curtain call with a huge bouquet of flowers handed to Amanda - and her two co-stars ANITA DOBSON and ex-THREE DEGREES SHEILA FERGUSON- and an afterparty to boot. And I thought I was pampered....tsk tsk. I caught little minx Amanda trying to snog Queen's BRIAN MAY -ANITA DOBSON's boyfriend - even though her own boyfriend was on the prowl. Cheeky. Great show though.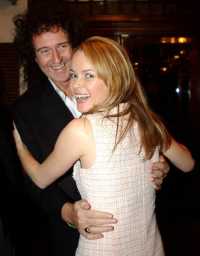 Amanda Holden & Brian May COPYRIGHT JOE ALVAREZ



Just enough time for a quick mention of the Royal Television Society Awards at the Grosvenor House Hotel Park Lane London where The Office won yet another award for best comedy.  RICKY GERVAIS was dead proud. Well done mate, and don't fret you'll get your pictures!

See ya next month.

JOE ALVAREZ

joealvarez@verycool.co.uk

(Copyright: Joe Alvarez 2004)            

All pictures COPYRIGHT JOE ALVAREZ