THE GRAND HOTEL EASTBOURNE – 5 Stars Tel 01323 412345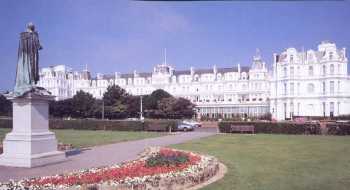 The Grand Hotel



Of all the Grand Hotels, this must be the grandest, situated in a spectacular position on the sea front. Regular Gourmet Dinners held in both their Restaurants are well worth the 90 minute journey from London.

RUINART, one of the oldest Champagne Houses in France, hosted an excellent selection of their Champagnes, accompanied by seafood dishes specially created by Master Chef, Gerald Roser.

A Reception in their luxurious Mirabelle Lounge got about 40 of us chatting together whilst negotiating a selection of Mirabelle Canapés and Blanc de Blanc Champagne. At 8 pm we were heralded into Dinner, Ruinart Rose and a Jellied Rock Oyster infused with beetroot, served with cauliflower Panmna Cotta and Caviar, got us into a festive mood. 3 more Champagnes, a non-vintage, a vintage '95 and the rare '93 accompanied the next 3 courses.

Approximately, an event a month; BOLLINGER Champagne expertly matched with classic dishes with a modern twist, will see me, a twinkle in my eye, as I visualize the tantalizing bubbles, on Wednesday, 9th June.

Dinner and Champagne £50 - £60
www.grandeastbourne.com


THE GORING: Beeston Place, London.
Tel 020 7396 9000
Email: reception@goringhotel.co.uk

Just behind Buckingham Palace is one of the oldest family owned hotels in London. Opened in March 1910 by the present owners grandfather, it was recently awarded the ultimate accolade of Five Red Stars by the AA.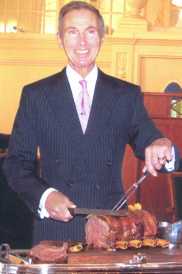 Mr George Goring



This picture shows Mr. George Goring, OBE Carving for Britain.

The restaurant specializes in great British cuisine - omelet Arnold Bennett, Cornish Crab, Potted Arbroath Smokiest. For main Courses, Fillet of Beef Wellington (one of my favourites) Roast Pork with crackling. Puddings prepared by Chef Derek Quelch, are a cornucopia of pleasure.

I was invited by Man about Town, Ian Scott, to dine in their enchanting Restaurant where a resident pianist accompanied my Haggis wi Neeps 'n' Tatties followed by Poached Fillets of Dover Sole served in a succulent Lobster Sauce.

The Garden Bar, adjacent to the Lounge, is an ideal rendezvous to meet friends and enjoy a glass, or two, or three of Ruinart Champagne


PAPAGENO, 29-31 Wellington Street, Covent Garden, London.
Tel: 020 7836 4444.
www.papagenorestaurant.com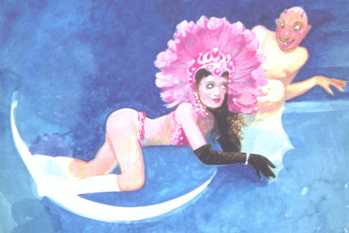 Papageno, named after the playful and mischievous bird-catcher in Mozart's Magic Flute, is a theatrical delight for eyes, ears and palate. Sister Restaurant to King Richard's SARASTRO in Drury Lane, this newly opened Gourmet Palace, where you can Dine for a Tenor, and listen to visiting singers and musicians from the nearby Opera House, provides a memorable evening of food, fun, wine and laughter.

Apart from 2 Courses for a Tenor, 10 pounds, the a la carte offers lots of fishy delicacies – the Big Boss Seafood Selection is a meal in itself – Meat dishes include Lamb Anatolian Style, Chicken, Duck and a mouth watering assortment of Desserts.


ST. STEPHEN'S CLUB, 14 Queen Anne's Gate, London.

Much frequented by famous politicians and Prime Ministers such as Winston Churchill and Benjamin Disraeli, this Club commands one of the most beautiful views in London. The elegant Dining Room and Bar overlooks the Club's private garden and St. James's Park. I went to their monthly Party the other evening and mixed and mingled with a delightful group of people, the wine flowed and Canapés flourished, and the Champagne bubbles were as lively as ever.

Greatly recommended by Robin Kent and myself. Their next Party night is on April 19th. Contact James Wilson for details: Tel: 020 7222 8740.

Enjoy a complimentary glass of magical bubbles if you buy a signed copy of my book CHAMPAGNE EXERCISES. Email: info@stephensclub.co.uk

HAPPY BUBBLES

- Joan – The Slender Gourmet