COVER STORY: This month's cover girl is the stunning socialite JOANNA.

After studying economics at a university in Poland (where she was born) JOANNA took a fashion design course at the American Intercontinental University in London. She is now a joint business partner with her boyfriend, businessman DAVE WEST.  The couple are planning to open a restaurant called ABRACADABRA and a Members Club called HAY JO, which are due to launch in September. Joanna is using her design skills for the projects, and knowing her exquisite taste she'll no doubt make a grand job of the interior decoration. Dave also owns the world famous EASTENDERS WINE super store in Calais, France. Dave and Joanna are both lovely people, and as Joanna says about her first meeting with Dave, "Before I knew it I had fallen madly in love with him." They are considered one of London's shining new social couples. (Did you see them at the London Fashion Shows on telly?)

LETTER FROM THE EDITOR
I'm a little sad this month for SALLY FARMILOE-NEVILLE, my dear friend, deputy editor and editor of our lovely Celebrity Fashion, Fitness & Beauty page. Sally's father passed on recently and she was very close to him. Being such a professional, I don't believe she's ever missed her column; why I've even had her call when she's been in bed suffering with the flu, but understandably this is a really difficult time for her, and I know I speak for all of us at HOT GOSSIP when I say that our thoughts are with her and her family at this time. Sally will be back updating her page next month.

Here's a nice little picture of Sally and our friends, which I took with my new Olympus digital camera.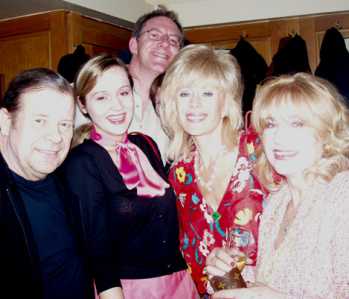 From left to right: Dave West, Joanna, Clive Walker and partner Michelle (who's hiding), Sally and Hilary Proctor



Thumbs Down!
Talking of Olympus cameras, I'm not very happy that I have to buy a camera case because they don't sell them with the purchase. And what's more they charged me £20.00 for an upgrade so I could use the camera with web based design. Cheek! You don't expect to have to upgrade when you've only had it a few hours.

Thumbs Up!
I've just discovered, after all this time, the fun of dropping by on eBay www.eBay.co.uk  where you can buy and sell just about anything. Somebody was even selling a packet of chewing gum, honest! It's so much fun, but beware of buying from the American site www.ebay.com if the member is new and has no feedback.

Don't forget to read our pages this month; pop by to see what our crime editor Jacquieline Davis is writing about, and Mark, our music ed, who has just come back from America with all the music industry gossip. And of course all our other lovely eds. And please read a message from our sponsor (below). If you would like to advertise with Hot Gossip, please let us know by contacting either myself or James Knight, our publisher.

That's it for this month!

See you soon

Georgina Bruni
Editor in Chief


AND NOW A MESSAGE FROM EASTENDERS

EASTENDERS is a NO FRILLS Cash & Carry situated in easy reach of both the Channel Tunnel exit and the Ferry terminals, retailing wine, beer and spirits in the range of budget wines and spirits for everyday drinking thro' to those for the 'Price no Object' afficinado.

Created by Dave West who, in 1989 began his preparation to establish a commanding presence in what was to be a new market resulting from the enactment of the Single Market Treaty. His NO FRILLS approach, allied to the retail philosophy of STACK HIGH AND SELL IT CHEAP is central to the company's culture and has ensured that the store has achieved the objective set in 1989, that of a commanding presence.

Today's store is probably the largest independently owned retail outlet of its type in the world, offering wines, beers and spirits from all major countries, and as a result of the quality of the products allied to their retail price, it enjoys an enviable degree of customers.

In addition to the outlet in Calais, EastEnders also has a retail outlet on the Franco-Belgium border retailing tobacco products, same emphasis on keeping the cost down, and is in easy reach of Calais.

Tel. Direct: +33 321 34 81 87
Fax Direct: +33 321 34 81 70

visit our website: www.eastenders-calais.com